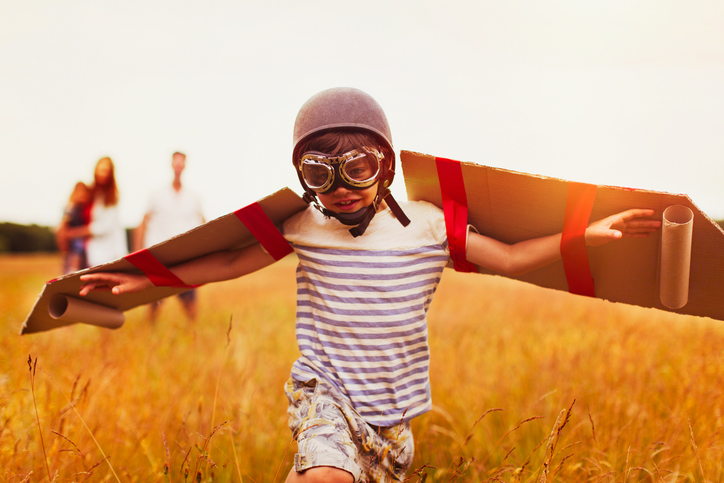 Vasily Aksyonov has a wonderful story "Little Kit, varnishman of reality". The hero of the story is in trouble: he does not want to call his boss, he is nervous, he quarrels with his wife, and his only consolation is his little son, whom he calls Kit. Dad "runs away" from everyone and goes for a walk with the boy.
And gradually his soul, huddled together in a ball, begins to slowly spread its wings. After returning from a walk, dad drops him off to a pot before going to bed, and the boy asks him to read something in the process. The father takes the first fairy tale.
This book is a story about "The Wolf and the Seven Little Kids". The boy opens the book, looks at the pictures and begins to compose a fairy tale on them. "Here is mom goat.
She's going to work. But the kids, they have fun playing. "Next should be a picture of a wolf, and the father involuntarily shrinks into a ball.
He doesn't want his son's good mood to evaporate, he doesn't want that kind light that he can warm everyone around him to dissipate in his soul. But Keith turned the page and continued, as if nothing had happened: "But Kozlikin's father.
He came from work and plays with kids. "For such a perception of the world, the author called the boy a" varnish worker of reality. "
Try to evaluate the child as little as possible. Any, and positive, and negative assessment ruins children's optimism. If you praise the baby all the time, he is afraid that the next time he will not succeed as well and the score will not be so high.
Criticism is also not conducive to the development of the child. So what to do if you do not praise and scold?
Try to switch attention to the toddler. For example, when he comes with his picture, ask what is depicted there (even if you understand everything perfectly).
After answering, be surprised: "Really? I thought it was not a castle, but an ordinary house. " Ask the child to prove that it is the castle in the picture, ask who lives in it, what this character is doing now, etc.
You can even refer to the fact that you took the castle for an ordinary house, because you can not see the towers. In this case, the child will receive an incentive to learn how to draw turrets.
Thus, on the one hand, the attention of the child switches, and on the other hand, you create with him the motivation to develop your abilities further.
Remember that a baby knows the world, learns to express his emotions, control his behavior, etc. only in communication with other people. It is communication that gives meaning to all that the child sees around him.
It can be emotional communication when the child is sitting, embracing with you. At such moments, which is very important, the baby has confidence in the world.
It can be any joint activity, when you draw, sculpt dumplings, read aloud, watch cartoons, etc. The main thing is to remember that the baby needs you to share his interests and that his life with you should be interesting.
The following advice follows from the previous one, it is also associated with moments of close communication. Of course, the baby will be faced with various failures – he ran and smashed his knee, wanted to make a snowman, and did not succeed, went out to speak at the matinee and forgot the rhyme, etc.
You can, of course, scold or comfort a child ("Nothing, it will pass" or "Yes, you throw this snowman-plasticine-brush", etc.). And you can offer a constructive solution, for example: "Let's go back together and see why you stumbled," "Let's learn to make a snowman together," "Teach me how to make balls, I can't do it," etc. You will see how tears instantly dry up and the baby will be happy to walk, run, sculpt various figures, read poems, etc.
Moreover, with the next failure the baby will reassure himself: "Nothing, I will learn! I'm blinding a snowman, I'll sing a song and draw a house. "
Teach your child to dream. Fantasy expands the boundaries of the world in which the baby lives. And the ability to fantasize is an excellent means of experiencing failures.
In addition, it is fantasy and imagination that make the child a real wizard. And then everything becomes fun and interesting: the terrible ceases to be terrible, troubles can be overcome, the boring can be entertaining, and you yourself turn from being small, weak and defenseless into omnipotent and omnipotent!
Play with your child. The game is more active than the imagination. And here it is necessary to understand that you can play and even need not only with toys, that you cannot limit the game to a certain, strictly fixed place.
And do not pay attention to the fact that the festive tablecloth can become a curtain, and a new suitcase – a place where you can hide. And, most importantly, playing is always not only interesting, but also fun.
And fun and joy are indispensable companions of optimism. So forget about the crisis, world problems and everyday troubles, and look at the world through the eyes of your child.
Become optimistic with him. at least for a while!