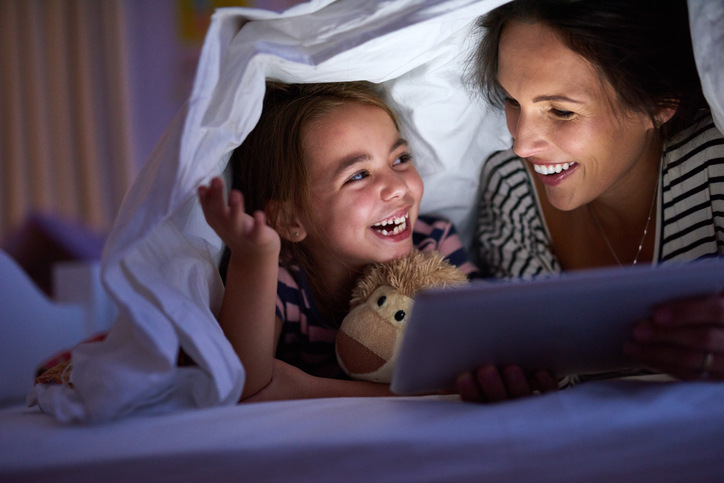 The rituals of falling asleep are a kind of sequence of actions that signal that it is time to sleep, sets the child up for quiet activity, peace and quiet, which is necessary if you want the toddler to fall asleep faster. These rites must be performed daily, at the same time. So adults will also have to strain and make some effort.
There are many variations of such rituals, you can choose the one that suits you.
1. When the baby went to bed, the most traditional ritual is to read him a book or sing a lullaby. But you can add even more significance to this simple algorithm.
For example, always offer your child to choose the book that he will read before going to bed. This, among other things, will help him feel like a participant in the event.
Another option is to pick up a special, long "night" book, divided into many chapters, which you will read just before bedtime.
2. You can arrange for the night looking ritual "tea". For example, with lighted candles or with the muffled light of the lampshade in order to tune in advance to a sleepy mood.
If desired, you can enhance the effect. Try to find a funny cup for your baby with a sleeping animal or order a mug with his photo in which he sleeps in a particularly funny or sweet pose.
3. Ritual can become before going to bed playing with water. Water sets up a calm mood and a positive effect on the emotional state.
You can pour water into bowls from a small watering can, throw toys into the water and then catch them from there with a cup, a sieve, etc.
4. Helps the baby to fall asleep and the ritual of joyful awakening, for example, if the toddler knows that he will find a surprise under the pillow in the morning. It can be not only a small toy or a postcard with good wishes, but also a letter in an envelope with a description of some amusing business that is waiting for him during the day ("Today you will bake buns with your mom!", "After a nap Grandmother, etc.).
To explain the appearance of a surprise is simple: "The gnomes saw how you sleep sweetly, and decided to make you happy." You can also refer to your favorite fairy tale or "cartoon" character.
And do not forget to remind in the evening: "The sooner you fall asleep, the sooner the morning will come."
5. If the baby has already grown up, you can try this technique: put it in bed, turn off the light, turn on the night light (if you use it), sit on the floor or on a chair next to it and exchange impressions of the passing day. At bedtime, it is better to focus on positive and especially pleasant moments.
Tell us what happened to you and ask him to share his joys.
Whatever happens, adults should not deviate from the established order of action. If at least once slack, the child will immediately take the exception as a rule and will have to start all over again.