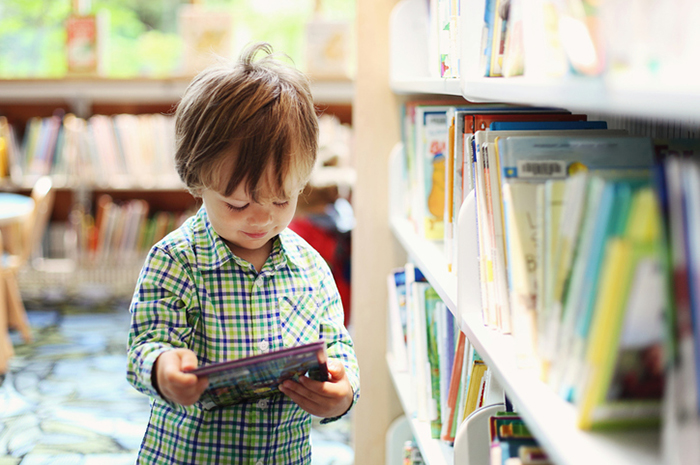 "Any books are now available – both in stores and on the Internet, and besides reading, children have many interesting activities. So libraries in the modern world are not very necessary. " This is the general opinion of the parents, partly fair.
Opportunities for children to get new knowledge or impressions are now really more than in their childhood years, their parents, especially grandmothers. But visiting a library is not only a choice of books.
This event is quite complex in its impact on the general condition, mood, cognitive functions and even individual qualities of the person. So to refuse it because of "books and so much" is not worth it.
Visiting the library can be a good habit, a family tradition. Very useful – although without immediate effect. This is exactly the same as, for example, the tradition of family meetings – dinners, holidays, for which several generations are going.
They, too, need now, in fact, no. You can communicate by phone, Skype unlimited.
But at the big family table, besides changing dishes and talking, very important things happen. An inner sense of community, of belonging to a family group is created and self-worth is increased. Some kind of emotional vaccinations are made that increase the resistance to the negative influences of the world around us.
A library is an event of the same kind. The main function is not so significant now, but there are enough reasons to give it time and attention.
"We were recently at the library – they distributed invitations in the kindergarten, and it turned out that everything was completely different there now. Interactive games, the film is very funny showed.
In general, no boredom and monotony. The child liked it. " Marina, the mother of six-year-old Sophia, doesn't even know what tricks the librarians go to attract readers.
They arrange real shows – bright, noisy, active, to match the rhythm of life of modern children. It is thanks to this that many children will learn about what libraries are – after all, if it were not for the holiday, no one would lead them there.
However, from the point of view of emotional development, this is rather a minus, not a plus. After all, what we call boredom: monotony, solitude, passivity, we also need.
These states play a huge role in the formation and development of self-consciousness. The mechanism of self-awareness is an internal dialogue, and it is possible with the most reduced external activity. Preschoolers and younger students need such a pastime – their ability for internal dialogue is actively developing.
The library is a place that meets these requirements absolutely. The child is busy (for parents it is very important), but has the ability to focus on his thoughts and feelings.
Of course, the first visit should not be delayed. And then the child himself will adjust the time.
He will walk, look and choose books as much as he needs for a state of inner concentration.
"It is difficult to interest children now, although there are many opportunities. Yes, if in our time there were all these development programs, games, Internet on the phone … One click – and all the information you need is on the screen. "
Grandmother Egor, even between her two grandchildren — one seventeen, the second seven, sees a difference not in favor of the younger one. "The teacher asked to find poems about nature, read and choose one that she would like. The child came home and typed on the Internet "a poem about nature that a boy of seven years old will like."
Yes, cognitive interest, search activity in children weakens. However, it was not they who became different – the connection is just the opposite. Any information is not just available, it is ahead of interests.
We, adults, offer too much ourselves, not allowing any interest to appear. We want to spur the desire to learn anything, worrying about the overall development, the easiest way – just give ready-made information. And in order for the interest to be formed and maintained, a state of some frustration is needed – a lack of information.
Then there will be both search activity and selectivity. Of course, this does not mean that it is necessary to immediately abandon all the advances in the field of modern technologies, especially since this will not work.
But it is worth instilling a taste for anticipation of discovery, anticipation, the very state of "I want to know it." The library gives this opportunity. Try the next time the child asks something, do not send it to Google.
Promise to go to the library and find everything there and deal with everything.
"I took my five-year-old daughter several times to the reading room when I was working on my diploma. She sat next to, drew.
Once he says: "I can tell you who reads what. That aunt over there is sad, that is about work, and my uncle reads about something very useful. "
Of course, I didn't check at everyone – I saw only that the "useful" is the "Introduction to Time Management". Another time, Masha says: "We need to choose the repaired books – they are probably the most interesting ones".
I thought that in my childhood I had such a landmark – that the corners were shabby. And also about how well the library develops intuition. " Masha was lucky: for her, the training on the development of observation was organized in a natural and one of the best ways.
The library has all the possibilities for the development of susceptibility. And at any age.
It is quiet there, they say little and in a whisper, books stand in a certain order – in general, the whole atmosphere and order are conducive to picking up a lot of details, which may be insignificant at first glance. In ordinary life, we are accustomed to sounds.
They surround us everywhere and always. Many of us even feel bad if there is no possibility to hear something.
While at home, we turn on the TV, on the street, in the transport we listen to music through headphones. We teach children to do the same.
Overall environmental sensitivity is consistently reduced. Psychologists advise from time to time to create situations of complete silence. And also – to perform special exercises.
Watch TV without sound, trying to understand what they are talking about in the program. Visiting the library is also a kind of training.
And it helps to see the world literally with different eyes.
Sasha has a syndrome of lack of attention and hyperactivity. He does not sit in one place, constantly twisting something in his hands, shouting, running. When the teacher in the kindergarten said that the whole group would go to the library, Sasha's mother was frightened.
I didn't even want to lead that day so that there were no problems. However, in the evening Sasha was surprisingly calm, and the teacher was pleased. "He listened with great interest to what they say, and in general behaved well. After dinner, I quickly fell asleep – and in fact sometimes the entire quiet hour is capricious. "
Problems of attention in children are formed under the influence of the nervous system and the behavior of parents. Often, adults, seeing how difficult it is for a child to focus, use stronger stimuli.
Something very bright, unexpected, that certainly fascinated. As a result, it is increasingly difficult for the child to focus himself – attention remains involuntary, depends only on the characteristics of the object. Listening, doing something according to the instructions, doing the same thing even for a short time is difficult for such children.
They do not need strong incentives, but to control their behavior. The library can become not just a pastime, but a real therapy.
The child is forced to obey the rules, restrain himself, be collected. Gradually, he himself begins to experience the pleasure of such a state.
"We go to the library once a month. Friends, when they find out, are surprised: "Liza, why do you need this?
If you want, we will give you the books – if you feel sorry for the money. " But of course this is not the point.
I like the very idea that the book I was reading was read by someone else before me. And someone will read later.
And that in general she lives so long. Of course, now there seems to be no reason to be so thrifty. But I am sure that soon people will think more about it.
Libraries are part of a healthy, eco-friendly lifestyle and culture. You know, when I ran with my parents in the park in my childhood, we were alone there too. And now – just like sports day every morning.
So the attitude towards libraries will change soon. " The daughter of Elizabeth Tonya is quite small and visits the library in a children's backpack on her dad's chest.
Parents are confident that the awareness of the value of books is brought up the sooner the better. As well as thrift, accuracy, caring attitude to everything that is created by the hands of other people. Now it's difficult to cultivate these qualities – the number of things is enormous, and manufacturers really care that all this is bought in ever increasing quantities.
Nevertheless, frugality, the desire to preserve – the qualities are very necessary. Not only in terms of attitudes towards things – they influence the general sense of harmony with the world.
When everything around is changing so quickly, there is a need to have something permanent or at least having a long history. Things in some sense play the role of emotional anchors.
The library from this point of view is an ideal place.