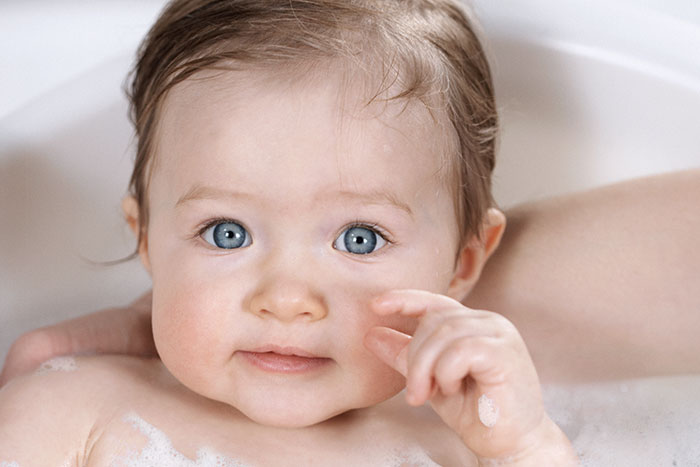 No, it is not. Most pediatricians, to whom Dr. Komarovsky, known and beloved by many mothers, belongs, are convinced: for bathing a newborn, you can and even need to use ordinary tap water.
Even such a crumb does not need such a level of sterility. The only thing that needs to be remembered here is that bathing is prohibited until the umbilical wound heals. And the rest – do not complicate your life by boiling buckets and saucepans with water.
Your baby does not need it.
No need for that. The antiseptic effect of such a weak solution tends to zero, and what exactly do you want to disinfect? And the most important argument against it: potassium permanganate dries and "paints" the skin, it is easy to overdose, and even very weak solutions can cause a chemical burn if it gets in your eyes.
If you really want to add something to the water, then let it be a series of infusions. But even in this supplement there is no special meaning when bathing a newborn.
According to the same doctor Komarovsky and many other pediatricians who advocate common sense in caring for a baby, the optimum temperature for the first bathing procedures is 33–34 degrees. Although, of course, the baby is able to withstand immersion in water heated to 37–38 degrees. But it will not bring benefit and positive emotions to him.
If you want your child to relax and love the bathing procedure itself, do not try to "steam it out" in water. The theory that surface fats dissolve at 37–-38 degrees, pores open and the baby's skin is cleansed, good for those with acne on the face.
The skin of the child has nothing to do with this.
No, it is not. Water through the ears can not get into the Eustachian tube, which is the cause of otitis in children. Nasal congestion is responsible for this problem.
Of course, a baby should not be specifically poured into the ears. But trying by all means to keep the baby's head in such a position that the ears, God forbid, do not end up in the water, is an excessive precaution.
Moreover, with the help of water, the child's ears are better cleaned from excessive physiological earwax without your participation. The only parts of the body that should not be immersed in water are the nose and mouth of a child.
This is only partly true. It is believed that babies after swimming relax and adjust to feeding and sleeping.
However, there are also such children whom bathing, on the contrary, excites, they become capricious, do not want to fall asleep, refuse to eat. About 1 out of 10 such children. If there is a suspicion that you got just such a crumb, postpone the procedure for the morning or afternoon.
There is no common sense in stubbornly bathing a baby in the evening if it does not benefit his nervous system and the calmness of the whole family.