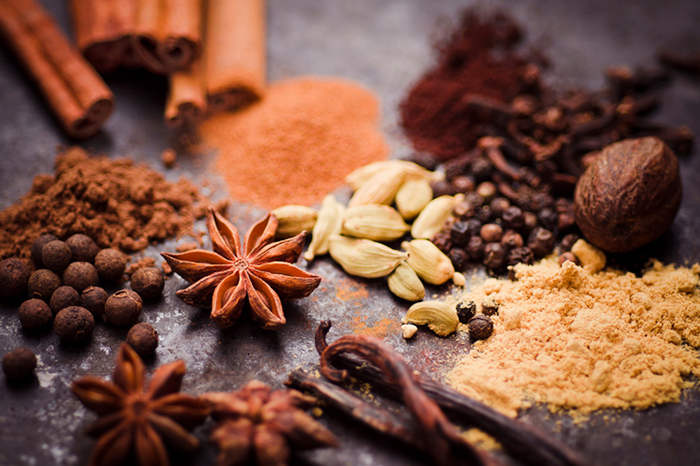 First of all, we should not forget that there is no urgent need to use spices. In ancient times, spices helped southerners save food and save food from the onslaught of bacteria.
In the northern countries with a cold climate, such a need arose less frequently, because spices are traditionally more used in the kitchen of countries with hot climates. Now, of course, everything has changed. Spices accentuate the taste of the dish, give it a little spice, awaken the appetite, contributing to the development of digestive juices.
Antimicrobial properties, too, have not gone away, but are already used in traditional medicine, and not in cooking.
Adding spices to dishes prepared for a child, you will introduce your child to new flavors, diversify and expand his taste palette. But the digestive tract of babies is very vulnerable to irritants, and in spices there are a lot of extractive substances.
In addition, some spices can cause an allergic reaction. Therefore, it is possible to introduce spices into the child's diet not earlier than a year and in very small quantities, starting with literally a few grains at the tip of a knife.
If the child did not like it – do not insist.
Very fashionable ingredient of many dishes now. Increases immunity, helps in the treatment of SARS. It has antimicrobial and anti-inflammatory properties.
In crushed form after 2 years, you can add it to the protein foods and vegetables that are already familiar to the child. In this case, it is easy to understand whether the novelty caused an undesirable reaction. The first portion – a few grains on the tip of a knife.
If the acquaintance has passed normally, ginger can be added to dishes first once a week, then at least every day. For a preschooler will be enough of a few grains.
Getting to know her is also better to postpone until 2 years. Although cinnamon promotes digestion, improves appetite and has an anti-bactericidal effect, it is usually added to baked goods, which is tantamount to sweets.
And the later the child gets to know sweets and pastries, the better. Cinnamon blends perfectly with an apple. And in fact – a favorite children's treat – baked apples with cinnamon.
This spice is also often added to porridge.
Vanilla aroma is deceptive: it is worth to breathe, as it seems that he ate the sweet. Therefore, adding this spice to cottage cheese and dairy dishes for flavor, it is better to do without sugar.
The first acquaintance with vanilla can take place after 1.5 years.
Its fruits and seeds are rich in vitamins and microelements. It is an indispensable component of gingerbread, jams and other sweets. Considering that the later the baby gets acquainted with sweets, the better for him, the time spent exploring the anise for a child moves closer to 3 years.
And remember: using anise, reduce the amount of sugar, especially if your goal is to acquaint the baby with a new taste and to focus on it. In Russia, anise seeds were added with sauerkraut.
Now vegetables and various cereal dishes are also seasoned with anise. A few grains will be enough.
They are used from infancy in the dill a little water – a means that eases colic and relieves them. As a spice, they are usually added to baking.
For this reason, as a spice, fennel seeds appear in the child's diet closer to 2 years and in very small quantities.