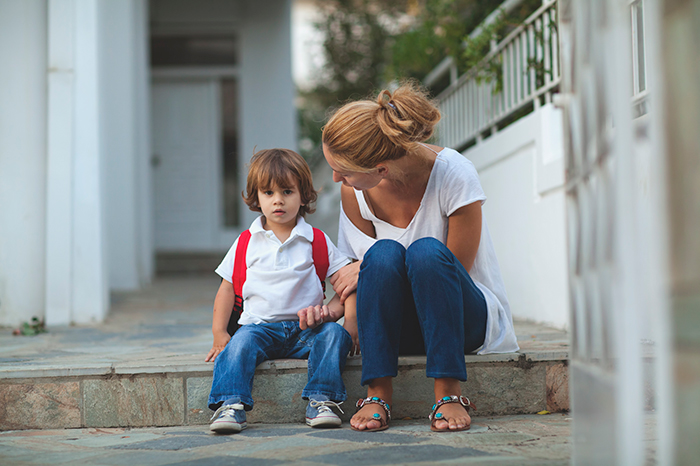 We need to start with the obvious: "Yes, you are right, for a child to be born, you need both a mom and a dad." Further, the answers may be different, it all depends not only on the capabilities, but also on the willingness of the mother to answer this question.
So, you can answer this way: "Once upon a time, dad and I loved each other very much and really wanted you to appear." It is extremely important for a child to know that they wanted him, because he perceives information about his parents as part of his identity.
Then tell that later, it was in the relationship between mom and dad, something went wrong: they began to curse and realized that they did not live together well.
If dad disappeared altogether, explain to the child that this happened, because the parents understood, it is better for them not to see each other.
If the child insists on meeting the father, the mother must proceed from his own will. Many mothers live with the idea that for the sake of the child everything should be done, even to the detriment of oneself, but this is not so.
Do not forget, a healthy mother is more important for a child than a mother who indulges in all his needs, but with a twitching eye. That is, if the mother does not want to meet with the father, do not even do it for the sake of the child. But it is worth explaining the situation, saying that yes, I loved my father very much, but we broke up, because he offended me and it was hard for me to see him.
And ask the child: "Would you really like to see him? Let's come back to this conversation a little later and see if we have any opportunities for your meeting, because I will not see him.
It hurts a lot for me. "
Usually such a question in children occurs at the age of 5-6 years, or when the baby is faced with death. The death of the little animals, a tragic incident that sees the baby or the death of a relative.
In answering the question, the attitude of the parents themselves to death is important. It's easier to talk about death when it is perceived as a kind of natural end of life.
You can compare death with a sentence, where death is, this is the point. Talk, philosophize about what our life is worth, what a miracle it is, how it should be cherished.
But, do not be death, so we would appreciate life.
Do not deceive the child, saying that he will live forever, and his mother, and relatives, too. Then, in the event of a tragedy, the real explanations about death will be especially heavy.
Unlike religious parents, whose answer about death is unequivocal and, one must admit, is quite optimistic, unbelieving moms and dads will have a harder time in this case. But to voice the child needs exactly the point of view that they adhere to.
Lies will sound false, which will cause even more alarm. And variants of life after death, considered by various religions, can be given in the form of hypotheses, versions.
If the question of death arose against the background of the event – someone died – in no case can one hide the feelings that arise from the baby. It is wrong when parents experiencing the pain of losing a loved one are advised not to cry at the child, "hold on", etc. The child still "reads" the state of the mother and, if what he feels and what he is told, is diametrically opposite , he ceases to trust people and the world.
In a situation of losing a loved one, all relatives, both adults and children, need to share each other's feelings, not to hide them. You can hug, cry together, tell how lacking a loved one.
And for a small child it is also necessary to pronounce that a loved one did not want to die at all. Why?
In a baby, the whole world revolves around him, and if one of his relatives dies, he may well decide that he was simply abandoned.
Such questions usually arise when children go to school in the first or second grade. Answering the child, first of all, you need to know, and that, in fact, he himself lacks.
To family more often traveled somewhere? Or to buy him something specific?
Further it is worth considering how this missing child is given. The general message should be as follows: different families have different opportunities, and therefore a different level of income.
In a conversation with a child, it is extremely important for parents not to start devaluing more materially successful parents, trying to protect themselves. To say, for example, that a classmate's dad is rich because he has stolen. Firstly, the child can pass it on to a classmate, secondly, it is wrong to form an image of a successful person as negative.
It is necessary to say that, yes, we also try to do everything we can, we do the best, but, alas, there are not enough opportunities.
If the child wants something impossible, there is a way to give it to him in the form of fantasy. For example, baby whines: "I want a banana!".
Instead of answering that there are no bananas now, I must say: "Yes, it would be great if there were a bunch of bananas in front of us now!" Bananas, of course, will not appear, but the parent will put himself on a par with the child with this phrase , showing that his desire has the right to be.
A similar technique can be used in the case of unfulfilled dreams. The main thing is to stay with the child and show that he is heard and accepted along with all his desires, even if it is not possible to realize them.
And in order to further consolidate this unity, you can make a plan of action to achieve the dream. It may be stretched for a long time and even years, but you should not miss this good opportunity to teach your child the basics of planning with regard to reality.