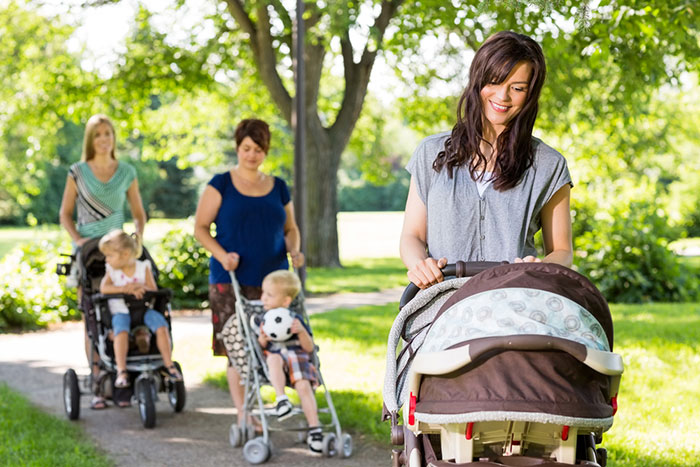 For many mothers (especially for the youngest), the first year of a baby's life turns into an endless examination of parental fitness. At the same time, examiners – family members, doctors, and just people who want to share their experience with an unfamiliar mother of pretty babies, can hold diametrically opposed views on matters of feeding, bathing, swaddling, upbringing … ".
Your mother, who knows all about breastfeeding, although from the very first days of discharge from the hospital she fed you with the "Baby" mixture. Mother-in-law is a staunch supporter of Spock.
Her husband's sister is considered an expert in the family, as she works as a nurse in the neurosurgery department of an adult hospital. The neighbor is a mother of three children who promotes natural parenthood … Everyone is ready to share with you experience, give advice, point out mistakes, in general, teach the mind. The basic rule – do not believe everything that you say, even if your interlocutor looks very competent and clearly more experienced than you.
1. It is necessary to weigh the baby before and after feeding, preferably every day.
In fact, it can only hurt, as it will make you worry. The hormone adrenaline inhibits the action of oxytocin, and milk will be released worse. You will be nervous, in a hurry, anxiety can be transmitted to the child.
In addition, the baby may suck different amounts of milk at different feedings (for example, after a walk or a bath, he has a good appetite, and immediately after sleep he does not suck so vigorously, and it may seem that he just wants to be closer to you and not hungry at all ). It is enough to weigh the baby once a month (when in doubt, once a week), and on the same scales – most mothers do it at a pediatrician's appointment.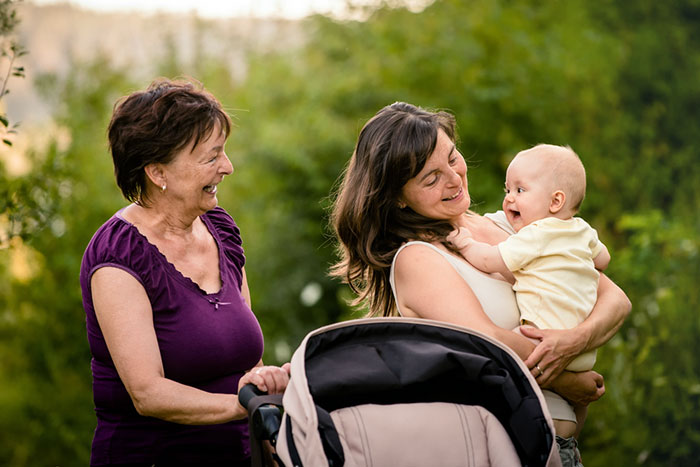 2. A good mother must breastfeed her baby for at least one year.
Breast milk is the best product a mother can give to a baby. But the process of breastfeeding should bring mutual pleasure, otherwise failure is ensured.
Do not go against your desire only to please your mother. If you care about the quality of infant formula and other nutrition, spend a lot of time with the child and do not deprive him of physical contact with you,
3. Sucking a pacifier can spoil the bite.
More recently, dentists and orthodontists have strongly opposed the pacifier, but in recent years she has been successfully rehabilitated by their own efforts. They managed to create special preventive nipples droplets with a beveled top, which are struggling with the underdevelopment of the upper jaw (to capture such a pacifier, the baby must push the lower jaw forward). The pacifier helps many children to calm down, because the sucking reflex in the first months of life prevails over the rest.
To fully satisfy him, you can give the nipple after feeding. It is important that parents do not begin to abuse this remedy. As the child grows and develops, he will have to learn to express emotions, cope with new impressions, taste a lot of objects and substances, develop his own voice – it is necessary that there is nothing foreign in his mouth.
Many experts believe – it is better to let the crumb suck his thumb. First, he will have to pull him out of his mouth to learn how to crawl, grab, hug, etc.
And secondly, adults are unlikely to be able to use such a "pacifier" to achieve silence.
4. It is necessary to give the child a "naw", otherwise he will grow up capricious and dependent.
Now scientists know more about children than during the time of universal hobbies by Dr. Spock's methods. For harmonious growth and development, babies need affection, human warmth and care no less than proper nutrition and strict daily regimen. It is proved that it is precisely the careful and caring satisfaction of all the legal requirements of a newborn in the first weeks of life helps to develop a sense of security.
It is this feeling that will gradually make your baby independent and self-confident. In the first three months of life it is especially important to respond immediately to any crying of the infant.
Take the baby in your arms is necessary! Some children need to be almost always worn in a sling or backpack, others learn to calm down pretty quickly just by hearing their mother's voice. It depends on the temperament of the child, the psychological climate in the family, and to a large extent on your inner state.
Therefore, the mother and all family members by all means should remain calm. And what kind of peace can there be when the baby is crying red from the strain crying in her bed, and the sobbing mother, on the advice of the "older comrades", is sitting in the bathroom and, under the sound of water, persuades herself to believe that this whole nightmare is a necessary condition personality.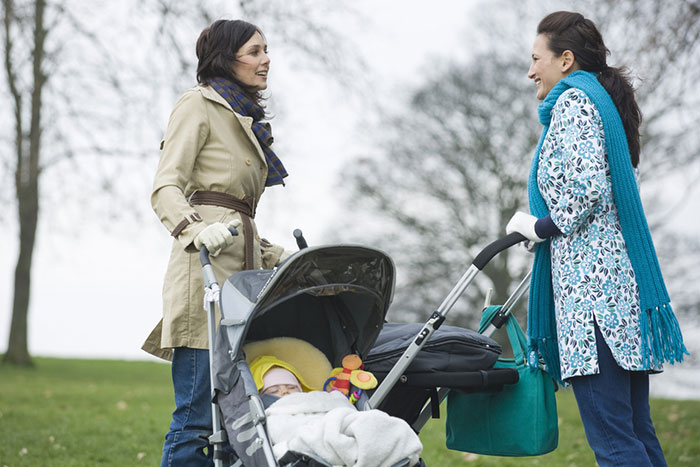 5. It is necessary to walk with the baby every day, regardless of the weather.
Walking, especially in the park or outside the city, of course, very useful for the child and for the mother. But in following any recommendations it is necessary to comply with the measure. When it's minus thirty outside, few people want a picnic.
There is no reason to feel guilty if you stay at home because of the icy wind, blizzards, nasty drizzling rain, heat above thirty degrees … You're still a mother, not a Viking.
6. In three months, you must begin to introduce feed.
Twenty years ago, the doctrine was this: in three months, and sometimes even earlier, it is necessary to diversify the child's menu, gradually including fruit, vegetables, fish, meat and other products. Numerous studies conducted in the last ten to fifteen years suggest that the introduction of most foods in the diet of a baby under five months of age may provoke allergies.
Eggs, fish, gluten, some fruits and vegetables are a serious risk factor. According to WHO recommendations, breast milk is the best food for a child in the first half of his life.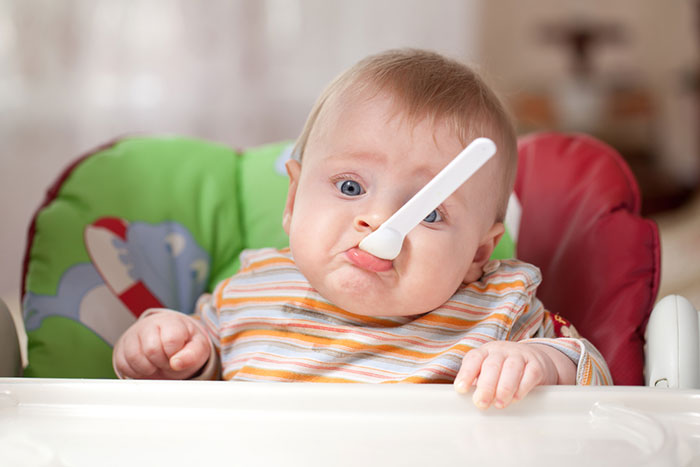 7. Home-made food is much healthier than baby food from jars.
You do not need to look for an excuse for yourself if you have made a choice in favor of ready-made baby food. The calculated and strictly controlled composition of high-quality "purees" is replete with vitamins, proteins, there is so much salt, sugar and other components in it, as the baby is able to digest at this particular age. With the mixed version – breast milk plus baby food – the picture is generally almost perfect.
With fully artificial – you can always add something to yourself to the "jars" – a juicy fruit, a slice of casserole, fresh homemade cottage cheese cooked with berries by the grandmother … And certainly infant formulas, mashed potatoes, curds, juices and other jars and boxes are much safer for a baby than food from an adult table.
8. Bathing baby laid before bedtime.
There are no hard guidelines on this. Most kids love to swim in the evening, as the bath helps to relax, relieve tension and fall asleep.
But there are also such kids who, on the contrary, are transported in water. And some even prefer a shower.
The choice is yours. Do not swim immediately after a meal – it does not matter, it was a breakfast or dinner.
But in general – if a child asks you to arrange a swim in broad daylight, you can follow him. And, of course, you should not wait for the evening, if the child is dirty or exhausted from the heat.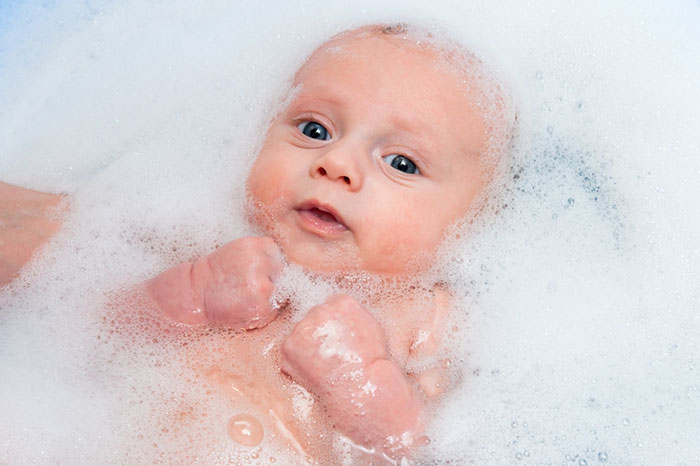 9. A bath two degrees lower than the thermometer shows helps to bring the temperature down.
Most pediatricians consider this method to be ineffective and unsafe. Temperature increase is a normal protective reaction of the body, but too high a temperature (above 38 for the baby) should not go unnoticed by you. Sometimes a slight increase in temperature is due to the fact that the child is too warmly wrapped up.
Put a thermometer in half an hour after you free your baby from extra layers of clothing (leave a body or diaper on it to prevent a large loss of moisture, which can even cause dehydration). If your baby is more than two months old, you can give him paracetamol or another antipyretic. If the temperature does not drop – call a doctor.
With vomiting and diarrhea, as well as if the baby is less than two months old, call the pediatrician without delay.
10. The intestines of an infant should be emptied at least once a day.
The normal stool frequency in infants can vary within extremely wide limits. Some babies "walk big" up to seven times a day, others – a couple of times a week.
Both are normal. Signs of constipation – stools in the form of thick peas and pain during bowel movements.
To cope with constipation that occurs, for example, with the introduction of complementary foods, you can use gymnastics, light massage, and if the child is breastfed, you may have to reconsider your diet. For the "artificiality" there is a special modern blend with a complex of dietary fiber prebiotics.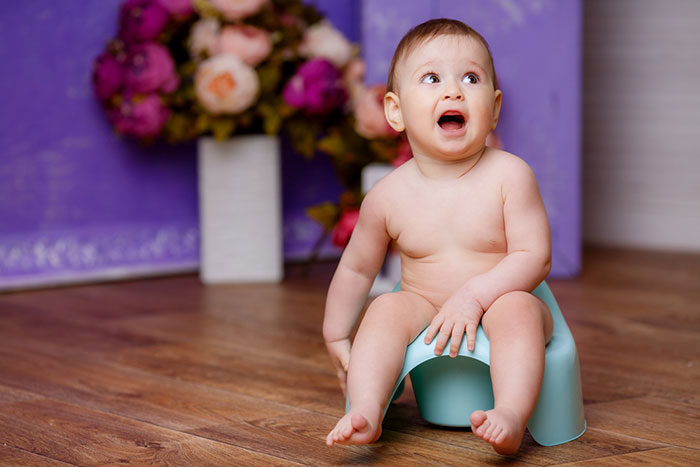 11. It is necessary to teach the child to the pot as soon as possible.
In order to independently take care of cleanliness and hygiene, the child needs to be able to control his own body, in particular, control the rectal sphincters and the muscles of the anus. He will be able to learn this by the age of two (sometimes a little earlier, sometimes later). Popular in the past, "planting" almost from birth, according to modern pediatricians, is nothing more than training and ignoring the natural rate of growth and development of the child.
Fortunately, in the past, those days when self-use of the pot was a prerequisite for admission to the nursery. Our mothers and grandmothers can remember a lot of horror stories about how children who do not want to crap twice a day on children's orders put a piece of soap, tubules and enemas in the ass.
If someone in the family still remains a supporter of the "proven old methods", it is worth keeping your baby's ass away from him!
12. Walkers are necessary for the child to start walking faster.
First, where to rush? Baby go in due time. If you still burn with impatience, to encourage movement of the peanut can be in other ways.
As for the walker, the opinions of the pediatricians were divided. Some people consider this device relatively innocuous, others categorically do not recommend spending on it, because its use is fraught with poor posture due to improper body position, since the center of gravity is artificially shifted in the walkers. A child who spends a lot of time in a walker can be difficult to balance when learning to walk.
Excessive use of a walker can cause foot distortion and flatfoot. Maybe you should not risk and better buy a "walker" of another model – a trolley or a machine with a high handle that can be moved in front of you?
However, if the baby has already managed to fall in love with the walkers and you do not want to upset him, limit the time of "walking" in them to thirty minutes a day.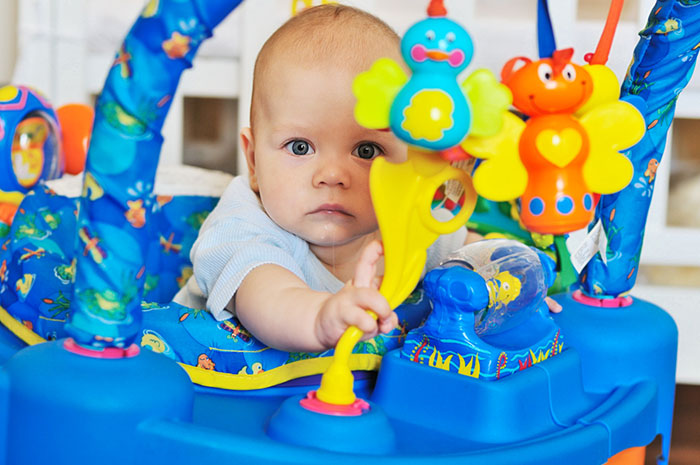 13. A child must learn to walk before the year.
Yes, this is another test that people are ready to perform for you again and again. Why not just listen to mommy, whose one-year-old toddler importantly sits in a wheelchair, instead of playing catch-up like "all normal children" for a long time!
Still, individual differences – the concept is not quite rooted in our society. He "must" – and that's it!
It is hardly worth explaining to the unenlightened audience every time with a guilty mind that mastering the science of upright walking depends on temperament, muscle tone characteristics, and in the end it's just the baby's desire. And according to statistics, the average age at which children begin to walk is twelve to fifteen months (and not at all nine to ten, as they are trying to convince you).