This shower gel came to me as a gift from the online store Yves Rocher. At first I was terribly happy and immediately went to test it. Very unusual shower gel, I will tell you.
What is written about it on the site


And pleasant and tempting words are written: creamy structure, skin moisturizing. Ingredients: Karite BIO oil, Aloe Vera gel BIO. The aroma is 100% natural, 99.4% of components of natural origin, 10.1% of BIO components.
Does not contain animal components, synthetic dyes, as well as parabens. PH is neutral. And even the packaging is suitable for recycling.
And in fact.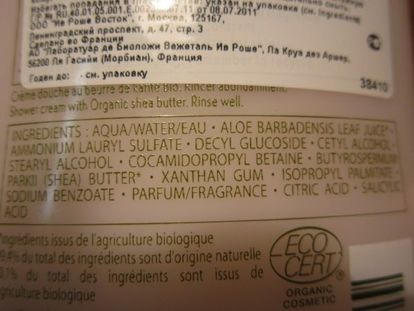 You can read and cry from emotion, but … we read the composition on the package: Laurel sulfate, ayayayay, apparently, he is in those 0.6% of components of non-natural origin. Okay, let's not quibble, and go soapy.
And lather and fail. He does not soap, absolutely! Here it is written – cream shower gel, and it is applied as a cream, does not lather, and does not create any foam.
The smell, apparently, is really natural, almost not felt, very inexpressive, and with some incomprehensible and unpleasant aftertaste … after the night?
I didn't notice much moisturizing, although, overcoming myself, I used it three times for the purity of the experiment. It removes dirt from the skin badly, my knees, which suffered from washing the floors in the corridor, had to be rubbed off in the old manner with children's soap.
Perhaps I am not right now, but the excessive bravado with the words of Bio and natural does not lead to good. We wanted to make a bio-gel – no need to add chemistry there at all! Then bio-maniacs will buy.
But no, add normal chemistry there, let it wash better and smell more delicious, then I will buy it.