Do not believe it, but with the help of inexpensive drugs you can not only improve your health, but also improve your appearance. Today I want to share with you my personal experience of using them for cosmetic purposes.
In the summer, many of my friends vied with each other to order an American wonder serum via the Internet, which improves the growth and appearance of the eyelashes. By the way, it costs a lot – about 1200r. (300 UAH). I did not succumb to this panic, because several years ago I tried similar products and did not notice any special effect. But I still wanted to strengthen the eyelashes, and then I remembered about the good old castor oil.
For many years this oil has been used not only as a laxative drug, but also as a means to strengthen and stimulate hair growth. Of course, you can use it for both hair and eyebrows, but I set out to strengthen eyelashes.
The drug is produced in two forms – in the form of oil and capsules with a gelatinous shell. Personally, I prefer to use the oil in the bottle, and its cost is less (apparently, gelatin is expensive now). I put a few drops of the product on my index finger (you can use a cotton swab) and spread it evenly across your eyelashes, especially paying attention to the growth line. If you have purchased capsules, you can pierce them with a needle and squeeze out the necessary amount of oil for each procedure.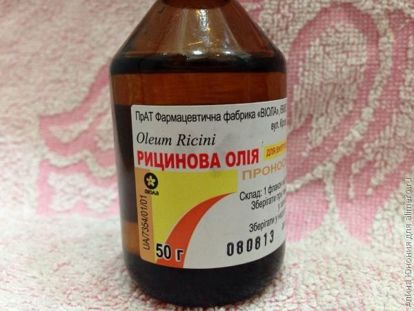 It is better to strengthen the cilia in the evening, because, firstly, it is almost impossible to apply mascara after the oil, and secondly, for some time, I personally have a little teary eyes. As a result, already after 4 weeks my eyelashes became stronger, slightly thicker and darker. The cost of the bottle, which is enough for several months of daily use, 16p. (4 UAH).
Once, in an interview with socialite Victoria Boney, I read that she uses calcium chloride solution as a facial peeling, which is sold in every pharmacy. I do not know if she really uses this method, but I really liked it.
I purchased several vials for intravenous injection, the cost of one about 8p. (2 UAH). On a cotton pad, I apply the contents of the ampoule and wipe the face with it, after drying, repeat the procedure. Then wet the disc with soap suds (you can use baby soap or facial wash) and gently massage your face. Horny skin particles together with the mud instantly turn into gray-white pellets, and the face becomes smooth and fresh.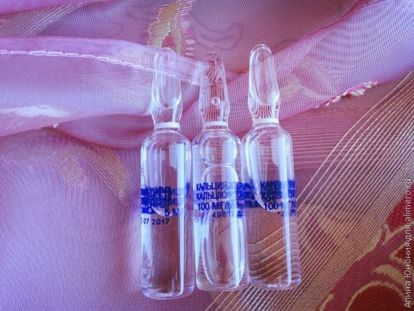 The procedure is not suitable for dry and damaged skin, such a peeling can be done every 2 weeks. After it you should apply a moisturizer or thermal water.
Antiseptic agents of this liquid can also be used for cosmetic purposes. A small cost (12 p. Or 3 UAH. Per bottle) can not but rejoice. I usually use peroxide as an antiseptic for cosmetic tools – tweezers and manicure tools.
I poured the product in a spray bottle, which makes the use of antiseptic convenient and economical.
And if the peroxide is diluted with clean water (1: 1), then you get a lotion for oily or combination skin.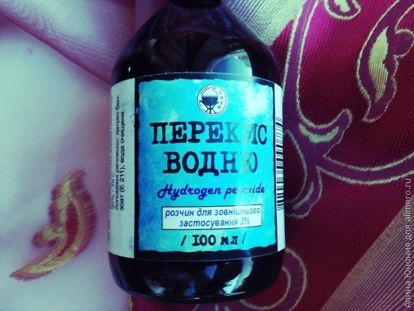 Boric and salicylic acids have a similar anti-inflammatory effect, but here one should be extremely careful, use point-and-point agents, otherwise you may get burned.
As you can see, even with a limited budget, you can find ways and means to care for yourself, and the result, oddly enough, can be unexpectedly good. In the next topic I will share with you the experience of unexpected use of drugs, I hope you will be interested!
Do you use drugs for cosmetic purposes?