The girl-consultant offered me them precisely because I have very fair skin. Yes, until the 11th grade I was a natural blonde, until my hair suddenly began to darken at a disastrous rate. Well, the shade and lightening of the skin – it does not change.
She told me that just the blush of PUPA of this shade will look very natural on my skin, while the other shades look brighter and coarser. I listened to the advice: it was felt that the girl speaks competently. They cost 283 rubles.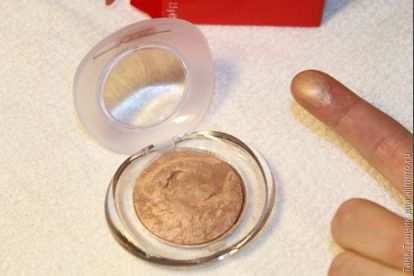 Blush Properties
Gentle and natural shade, soft, pleasant velvety structure – both externally and to the touch. It is easy to shade, but it requires applying in several layers even on my very light complexion. On natural brunettes – I generally keep quiet – it will not be visible at all.
Jojoba oil is a part of blush, it is pleasant, it means that the powder moisturizes the skin. But if you remember that we first apply the base, then the foundation, and only then the blush, then I don't even know if these moisturizing particles penetrate the skin?
On the box is: low risk of allergies. I did not have it, we will hope that others will too. By the way, there is still a brush for blush in the box, but I don't use it – I have another, big one from the professional set. Her blush applied as it should. And this little brush turns out uneven and too bright.
Two depressions are visible in the photo – this is what my son tried, teeth. But do not worry, it did not affect the texture and properties of the product.
I apply blush in 3 steps: I take it on the brush, press it tightly to the skin, put a dot, then draw a line with the brush up the cheekbone. Then again I dip a brush in powder, I lead upwards, and so on one more time. Only then it turns out a prominent blush, but it is not bright and not intense. If you apply blush in the morning (considering that they are applied to the foundation), then until the evening they sit perfectly, and do not fall off the skin.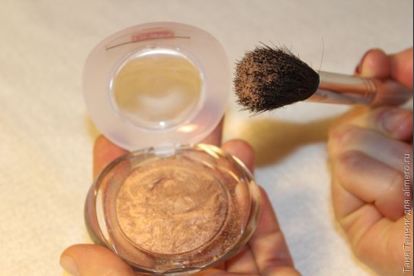 What is the disadvantage?
Only in one: it is not pink. And I would have liked more pink blush. Tan color looks unnatural, because the natural color of blush – from light pink to beet.
Although yes, on my face they look like a real, and not made up blush, dim – exactly as it should. But given that I have brown hair, beige lipstick often on the lips, then just for a change in the image would add a light pink in the form of blush. I don't even know to whom and how this shade of tan would suit.
Maybe you have any ideas?