Dark eyes – or brown, or black – are very many people on our planet. However, this does not mean that they are not original, or not unique, because for each person the iris has its own shade.
There are honey, walnut, various types of bronze, and even as black as ebony. Such eyes are piercing, deep, capable of winning many hearts. In the era of black and white cinema, actors and actresses with the darkest eyes were especially popular. The light-eyed was much less likely, because the dark color of the iris contrasts perfectly with the white skin.
Of course, these are eyes that suit a lot and which can be easily accentuated by cosmetics. To focus on them in makeup, a simple black pencil or eyeliner is enough. Only these uncomplicated tools can perform a variety of miracles.
If you have a dark beauty, your eyes will fit, framed only with a black pencil line. This is the best way to emphasize them. In addition, you can make black strokes with eyeliner on the upper eyelid. Smokey ice will suit you, although I must admit that in this case the effect will be better for owners of lighter eyes. Despite this, gray shades are definitely suitable for you. However, do not overdo it with them. Do not cover the entire upper eyelid with thick lines made with a pencil or eyeliner: it can look quite grotesque.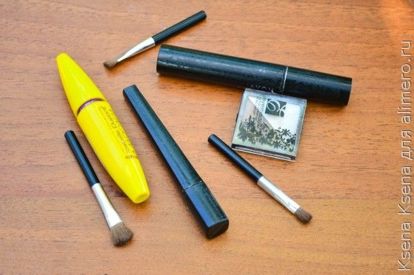 Colored eyes are suitable and colored shadows. Very good to use you intense pink. If you are pale and are the owner of cold beauty, then light will be good. In addition, all warm shades like peach or gold suit you. It will look great in combination with your iris white, cream, ivory. It will make the look clearer and will visually enlarge the eyes. You can use black lines – this will create a great contrast.
In addition, cool colors like blue and green suit you well. When it comes to purple, you should be careful not to look too sad. In addition, brown-eyed are very suitable all sorts of shades of brown, starting with beige, walnut, honey shades, chocolate to dark, cold brown.
The underlined eyes contrast with the corresponding lipstick. If you are dark and like to paint your eyes with a pencil, choose a bright lip color. By underlining them, you will further increase your dark, underlined black pencil eyes. Pink lip gloss is also suitable for you. You'll look great in coral colors. Very suitable colors are peach or flesh, and, of course, dark colors such as dark red or burgundy. However, remember that if you use these, you should emphasize the eyes more delicately.