In this article I would like to tell you about those brushes that are in my organizer. Some I use often, others less often. To be honest, I can not imagine how some girls do without them at all. As for me, it's so hard!
Five of my helpers you can see in the photo. I must say, in addition to performing their immediate functions, for some reason, they always help to improve my mood))) Just look at them, I'm already smiling a little. I touch, so nice: soft, gentle. If I start to do makeup, then in general any sadness passes right there.
Powder brush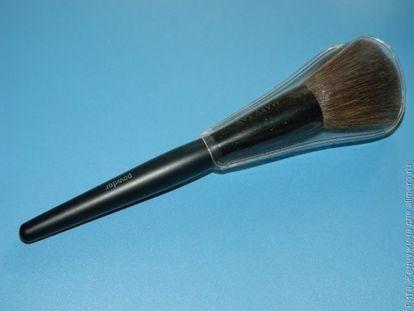 I'll start with her, with beauty))) This brush is natural, made of goat hair and pony in the ratio of 60% and 40%. She is soft, very pleasant. But at the same time moderately elastic.
Her task is to distribute the powder in a beautiful layer: thin and even. I can say with confidence that she copes with it! Powder takes into itself as much as necessary, well shaded.
Brush for blush
Brush for rouge I also have a natural, made from the hair of a goat. As you can see, it has a beveled edge. I must say that this allows it to better wield when creating a blush. She well emphasizes cheekbones, very easy to use!
Compact brush for blush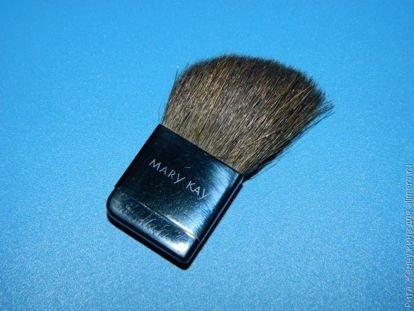 To be honest, I just adore this brush. Its not worth the trouble to carry. It does not take much space, but it is a pleasure to use! With it, a layer of blush I always get smooth. She, too, from the hair of a goat. As for me, it is well suited for applying powder too.
This brush, like the previous ones, is made of natural material: pony hair. It is very pleasant to the touch and to use. It serves to apply dark shades, i.e. accent shadows. I apply and shade them with her, in general, I work on the depth and expressiveness of my gaze.
Eyelash and eyebrow brush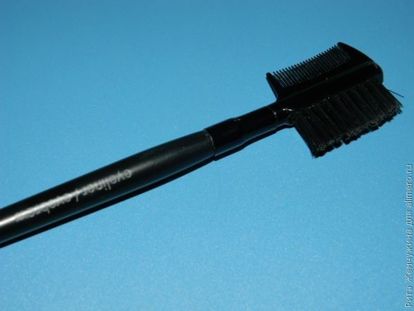 Double-sided brush-brush. Here it is already made of nylon. Its function is to emphasize the line of the eyelashes, to give a well-groomed look and the desired shape of the eyebrows. I can not say that it is right, my favorite, but still use it often. I rarely use the rest of the brushes.
Of course, brushes require care. As for me, it is not difficult to do so. You need to know how to not be lazy to follow simple rules with the necessary frequency. Then it will be safer and more pleasant to use.
If I use them every day, I try to clean it once a week. If less often, then just somewhere in 7-8 uses. I clean them from the remnants of cosmetics. I take a delicate remedy suitable for natural hair, squeeze a little on my palm and with a moistened brush I start to drive in different directions, then in a circle. Only all this is very neat.
Then I rinse the brushes well, wipe off excess water with a towel. I simply attach the desired shape with my fingers, leave it to dry, but not with the handles down!
I want to believe that you were interested in reading!