I must say, when I had several lipsticks and two sets of shadows, I didn't really bother with what to store them in. I had it all on the shelf in front of the mirror. If you had to take something with you, just throw it in the smallest pocket of your bag and that's it.
When I started to do makeup seriously, its volume increased significantly. I had to think about something that did not bother me before. For me personally, these efforts were very pleasant. I love different cases, cosmetics, boxes. It is interesting and pleasant to choose them, and it is even more pleasant to use.
Sets: shadows, blush, powder
There are no small problems. Separate blush, powder and a minimal palette with 2-4 shades of shadows are always on hand in my beautician.
With large sets of shadows, too, there is no particular hassle, they are in themselves. For some, there are special cases for handbags. Very comfortably.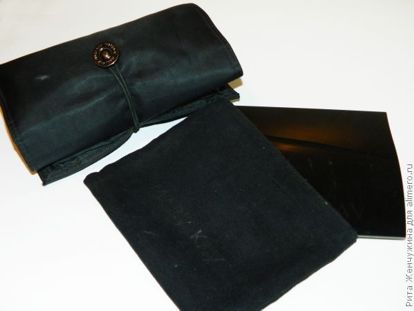 Brushes, toners, mascara
For storage, carrying and use of these items, I chose the organizer. I must say, with him very comfortable. I always see what I have and where it lies. There is no problem to get one and another tool back in place. Carrying with you is also good and even fits perfectly for a trip, I think.
My pencil is not dark, but not one or even five. For them, I purchased special cases, fastened with a button.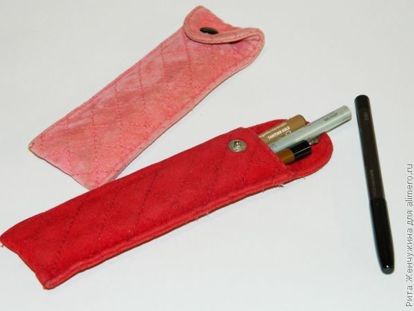 Sorted them out. In red, I have pencils for eyebrows and eyes, and in pink for lips. Now they do not need to search either at the bottom of the bag, or even in a cosmetics bag. And in the case of losing them is unreal)))
And even in the antediluvian times, once I had flown the cap from the lip pencil right in my bag and part of the lining and contents of the bag were smeared with red))) To be honest, only after this incident did I think about what needs to be closer to them treat Now for this I do not worry.
I already wrote about my fondant paradise))) As you understood, this is a special topic for me, and even the whole world.
I have a wonderful stand. Of course, in the full sense of the word you cannot keep cosmetics in it. But as for me, it is very convenient to use. I have shines in it now. They are always in sight, because often run.
Lipstick, I used to sort by cosmetic lines. Then I realized that it was stupid and did not suit me at all. I chose a different path. In one cosmetic bag I put lipstick and gloss, which I use all the time, and in the other, everything I use much less often.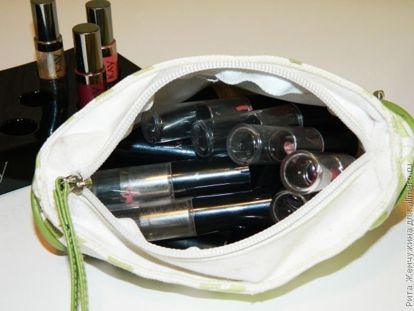 All of the above helps me to know at any time where the desired item of cosmetics is and to be sure that it is safe and sound.