The choice of mascara for owners of not too thick and not too long eyelashes is always a task of a certain complexity. I have another problem joining this problem: hanging eyelids and oily skin on the upper eyelid – as a result of smearing the carcass. Waterproof mascara helps solve these problems.
I tried a lot of types of waterproof mascara, the main thing that I brought out for myself was not even the mascara itself, but your individual peculiarities. Of course, manufacturers are trying to help us: to give volume, and lengthen, and twist, but the best option, except nature, is difficult to find.
Mascara Maybelline Volum Express turbo boost waterproof


The waterproof qualities of mascara suited me perfectly, I was not afraid for my eyelashes either in the summer, when the heat and skin gives off more intense sweat and fat, either in the rain or in the snow, or even when it starts to cry.
Cilia, of course, become thicker, but to add thicknesses to my eyelashes – here what nature did not give, that will not happen. Unless to use overhead, but they are unnecessary for me.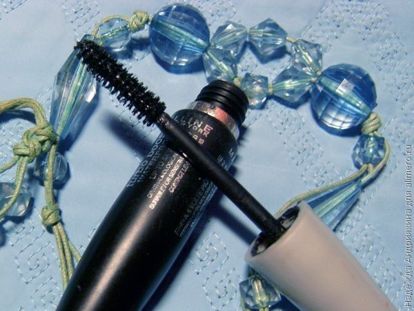 The brush is too thick, sometimes my eyelashes stuck together in triangles, I had to separate.
Pros:


– lengthens and thickens the cilia
– does not form lumps
– good water resistance
– it is not showered, it is not smeared.
Minuses:


– the brush is thick for me
– there is a feeling of heaviness on the eyelashes.
Findings: mascara solves the stated problem, its special advantage is water resistance. To remove makeup, you must use a special tool, not water.
Mascara Maybelline Lash Expansion Waterproof


In this mascara, the brush seemed more comfortable to me, it has intersecting villi that have the shape of micro-hooks, and the brush narrows to the tip, due to this it is more convenient to paint short eyelashes in the corners of the eyes.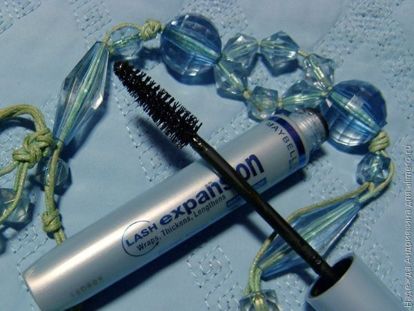 Perhaps, I did not notice the differences in the quality of the mascara itself as compared with the previous version, but due to the convenient shape of the brush it was easier to dye and the painted eyelashes looked more effective.
Pros:
– comfortable brush
– eyelashes stained well
– does not form lumps
– does not stick eyelashes
– it is not smeared from humidity, it is not showered
– eyelashes are not felt heavy.
Minuses: I rarely meet it on sale.
Findings: I would choose this mascara for myself, it fits my individual features and all the declared effects are observed in it.
Oriflame Wonder Lash Waterproof


This mascara is also a very interesting brush: on the one hand the bristles are short, on the other they are long. For dyeing eyelashes, it is first recommended to apply mascara with short fibers to lift and twist, then comb, distribute mascara with long ones.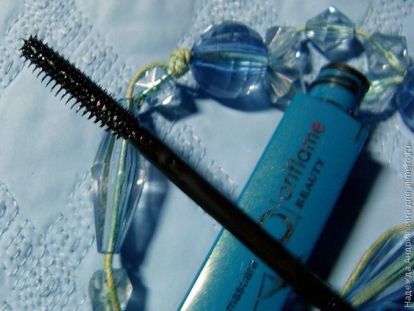 The idea is excellent, but either the mascara of a different quality, or the mascara is not suitable for my eyelashes, but my eyelashes at the roots hardly work on it, but the effect of naturalness can be observed (in general, neither the volume nor the elongation I noticed).
Water resistance is good, but by the end of the day I can smear this mascara over the eyelids.
Pros:


– original comfortable brush
– good water resistance.
Minuses:


– does not hold during the day
– not completely paints eyelashes.
Findings: For me, this mascara was not quite suitable, compared to Maybelline, at almost the same price, the quality seemed to me lower.
Mascara ARTISTRY Waterproof Mascara 200


I have already written about this mascara here. For me in this mascara is also a convenient brush with a conical shape and a good mascara coating of eyelashes.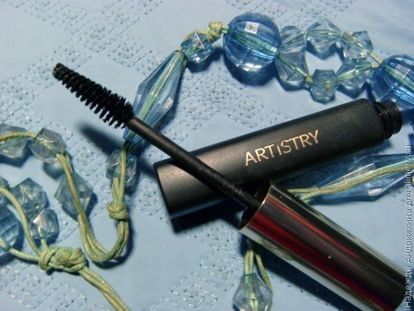 I will say that once this mascara has stood the extreme test. Being on a business trip I didn't take off my makeup in the evening, what was my surprise when in the morning I saw that the mascara didn't crumble, didn't smear, and it remained normally made up on eyelashes.
Pros:


– good water resistance
– does not spread, does not smear, does not crumble, is not going to lumps
– exactly paints eyelashes, does not allow to stick.
Minuses:


– the increase in volume is stated, but not noticeable on my eyelashes
– not commercially available, distributed by Amway.
Findings: Of all the types of waterproof mascara that I presented here, the Maybelline Lash Expansion and ARTISTRY were the most suitable for me. Advertising promises us a lot, but it's best to know your features and choose cosmetics to suit them.