Today I will talk about a miniature waterproof eyeliner in a black shade from Make Up For Ever, a brand new for me, and how I tamed it in my make-up.
The manufacturer (France) promises an ultrapigmented formula for eye makeup and eyeliner for the inner eyelid. Cream pearl texture waterproof pencil is designed to create a clear rich smooth line. Ideal for ultra resilient and express makeup. In the collection of 25 shades.
Packaging and appearance
I got a miniature version of this pencil (0.5 g) – half the full version (1.0 g). Wooden pencil, black shirt with shade. A plastic cap is attached on top, which reliably protects the pencil from drying out and dust sticking. Sharpeners are not attached to it, in this I see a small minus.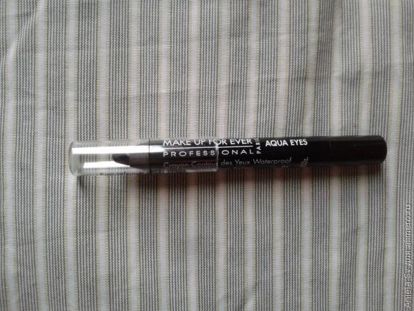 The texture of the pencil is oily, for me it is soft – it slides easily over the eyelid when applied, but just as quickly it hardens, forming a film that cannot be shaded, so you need to act quickly when applied. The pencil is not sharp, so I don't get a clear arrow, I have to resort to other methods.
Hue and makeup use
I have a classic black matte tint without a chimmer — a tint that I think should be in any girl's makeup bag (suitable for any makeup). Since the pencil stylus is quite thick, I cannot draw a thin arrow, but in principle I like thicker arrows, so for me this is not a problem. And now I will tell you how I tamed this pencil.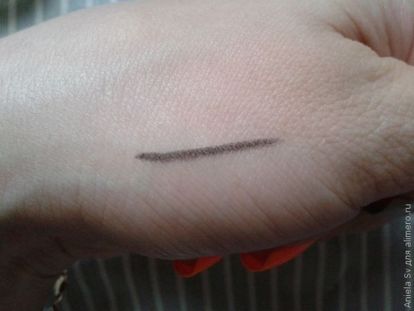 The pencil is declared waterproof, so for the first time I boldly applied it to the bare eyelid without a base. And she was disappointed – after 3 hours the pencil spread over the entire upper eyelid and it looked awful. The second time, I learned from bitter experience, put a base on the eyelid and only then a pencil. In this case, the pencil lasted about 5 hours, and then still smeared. This turned out to be unacceptable for me.
The third time I drew an arrow very long and carefully, using the help of a brush – I would brush the color straight from the side of the pencil and then transfer it to the eyelid covered with the base and shadows. And I did it – the hand remained intact until the very evening – it took me about 10 hours.
So I declare to all girls: if you suffer from the instability of pencils and shadows, since you have a fat eyelid, if you want to quickly draw an arrow and forget about it until the evening, do not buy this pencil. For the express make-up, as stated by the manufacturer, this pencil is not suitable, but perhaps you will be luckier than me)
I think every girl knows her own peculiarities when applying shadows and pencils, so she can easily determine if she needs such a pencil. I was unnecessary, unfortunately.
The price of the full-size version is 630 rubles without discount.