Yves Rocher Stylo Regard Waterproof waterproof eyeliners in shades 01 Noir and 05 Turquoise I acquired in the summer to use in make-up, without fear of divorce and sealing on the upper eyelid. But they are so fond of me that now I use them all year round.
In the collection of 7 shades. The manufacturer (France) promises a soft texture, easy application and underline look. Impeccable durability of makeup. Ultracomfortable to wear. Intense color.
The pencil case is plastic, in the color of the hue contained in it. Weight – 0.3 g. Automatic pencils, sharpened at first use, but not too sharp. There is a built-in sharpener, which sharpens pretty well. The lid snaps tightly.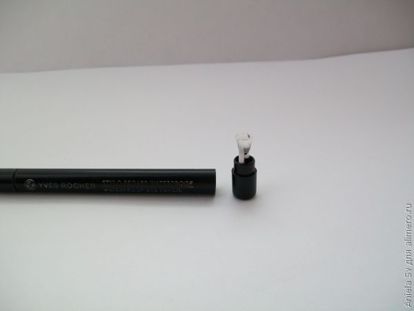 Shades and application
Pencils creamy texture, easy to apply, if desired, I shade them, but I do it quickly, as they quickly grab with the skin of the eyelids. Really waterproof, withstand any bad weather and swimming. The fragrance does not possess.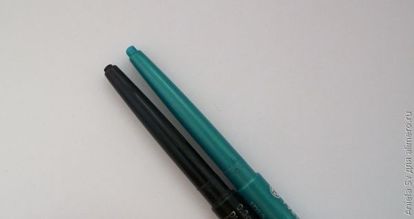 Do not smear, do not imprint on the upper eyelid when worn, the colors are saturated, bright, the skin does not tighten the eyelids. It is very economical, the sharpener does not remove too much, when sharpening the pencils do not break. You can make a thin arrow, and you can make it thicker – someone who likes it.
Hue 01 Noir (black) – classic black, draws a bright and clear line from the first time. I use every day to draw the cross-page contour.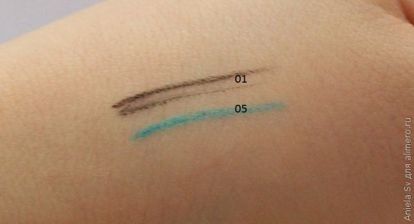 Hue 05 Turquois (turquoise) – a beautiful bright shade, perfectly emphasizes the color of green eyes. I use it on my own in makeup, and I also combine it with any suitable shadows. I like to wear them solo or with peach shadows.
Since the pencils are waterproof, conventional means for removing makeup do not wash them off, only special ones. I use either two-phase products or a balm to remove permanent makeup.
I recommend everyone to try these pencils, especially those who, like me, suffer from the instability of decorative eye makeup products. Price – 430 rubles without discounts.