Every woman has periods when she leaves from active social contacts and spends a lot of time at home in caring for children, in the kitchen or in cleaning the apartment. Expensive nail polishes in such a situation are meaningless to buy, the household is not conducive to their preservation, and manicure is not often done.
However, any woman, even being a Cinderella, will not refuse to look attractive, so hand care and painted nails are the same indispensable condition as applying cosmetics to her face when leaving home.
For the aforementioned reason, I refused to buy expensive varnishes – it's a pity to throw away half-used dried bottles, but I always have handy cheap varnishes (and on nails).
It is clear that even for a reasonable price we want to buy a normal product, so I tried many different varnishes and once I saw a shelf with Vivienne Sabo cosmetics in a newly opened store.
Vivienne Sabo Glassage nail polishes

The company didn't tell me anything, it didn't need cosmetics for the face, but lacquers for the price around 80 rubles attracted attention. I needed low-key tones, so I chose two neighboring No. 102 and 103, one of which looked pastel pink in the bottle, and the second color of coffee with milk.
When buying, I did not even notice that the lacquer indicated 2 in 1, and only at home I considered that the lacquer is sold as color and base together, that is, the basis for lacquer is not necessary to buy. In addition, the cap was written with calcium and silk.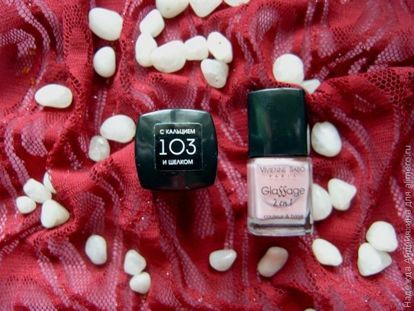 I belong to different advertising campaigns without pita, too many examples of all sorts of cheating, the best way is to try.
Varnish Vivienne Sabo Glassage №103

Beginning with the color of coffee with milk №103. The brush was shortish and therefore not very comfortable.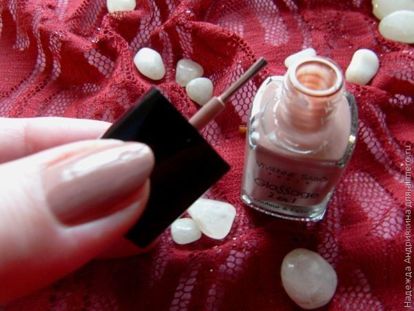 However, the brush gained good lacquer, the consistency of it was of moderate thickness and lay down surprisingly evenly, although one layer was slightly translucent.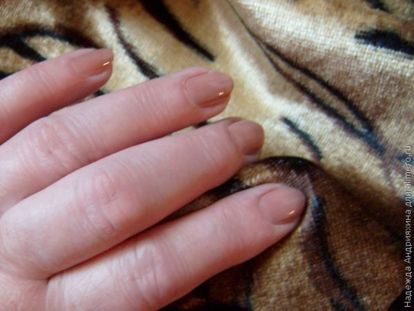 Dry too quickly enough – about three minutes. In contrast to the color in the bottle, the lacquer did not acquire haze, but a glossy shine, then I later learned that Glassage is the gloss.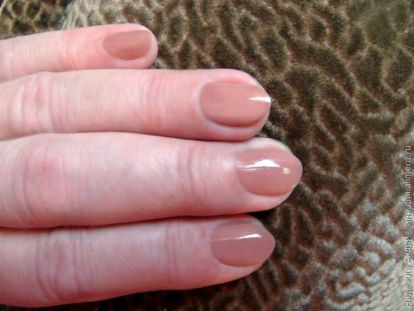 Two layers looked very impressive, and about 7-8 minutes dried.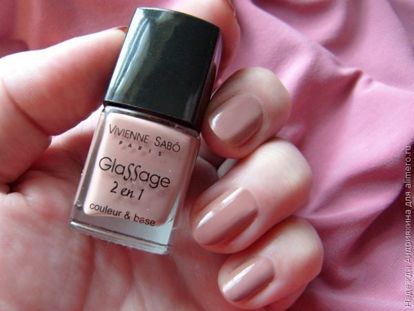 A check in the kitchen showed that the lacquer lasts 2-3 days without using a fixer, on the third or fourth slightly faded tips appear, but without chips. It seemed to me that this is an excellent result for home use.
Pros:
– the basis under a varnish is not necessary
– lacquer falls flat, does not strip
– beautiful and glossy color
– dries well, does not scratch, there is no effect of clay
– in adverse conditions it is kept well
– the ratio of price and quality corresponds
Minuses:
– a little uncomfortable brush (short)
Findings: quite decent varnish not only for home use.
Varnish Vivienne Sabo Glassage №102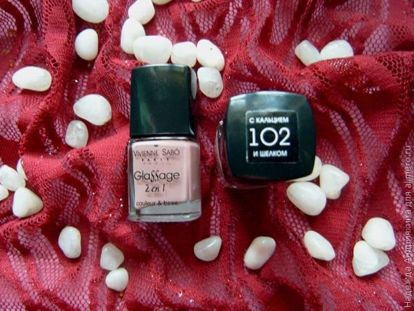 The pink tone was slightly worse in terms of even application, it was slightly striped. Specially made a picture without glare of sunlight, so that you can see how it looks.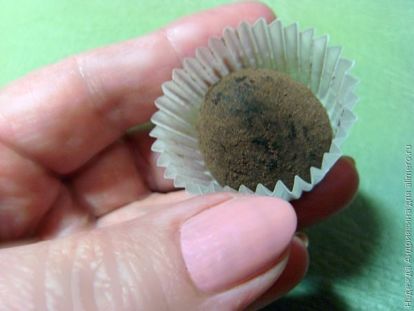 In other situations, he behaved the same way as a close relative of another tone.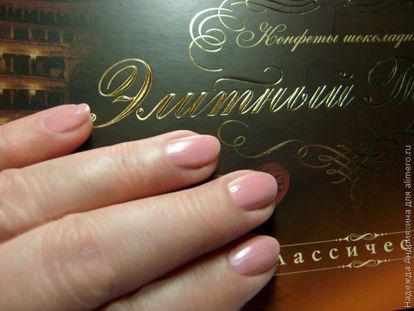 With artificial light and with the sun tone changes a little, but in general it looks calm and discreet.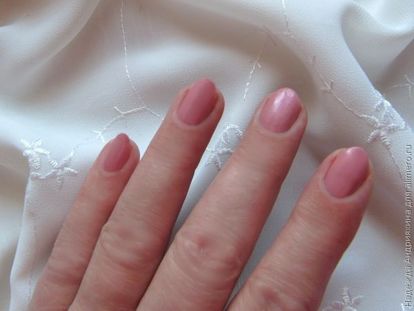 Googling online, I read that Vivienne Sabo is a new brand of French cosmetics that has existed only since 2006, products are made in Switzerland, which is not so important, the result is much more important, and it turned out to be quite satisfactory .