I do not know what made me grab this bright bottle of mascara for 39 rubles at the box office, apparently, a sporting interest, what will the Chinese manufacturers offer for such money.
First of all, I was attracted by the design of Volume glamor MAX definition mascara. Bright raspberry packaging of interesting shape with a funny convex part of the cover. I did not immediately understand what she reminded me, but going into a store of ordinary cosmetics, I immediately remembered – almost one-in-one carcasses from Bourgeois! Even the name is the same, if I'm not mistaken.
Package and Description

It was pleasantly surprised that the mascara was packed in a transparent protective film, i.e. there is confidence that no one has opened or tried it before me (unfortunately, such precedents happened to me more than once).

The manufacturer is not generous with descriptions, on the tube you can find only the name, the company Marya K, the composition in English and the shelf life. I did not find any descriptions of the miracle effect or properties of the carcass, I did not find it on the Internet either. The only thing you can guess from the name, this ink is designed to create volume.
The brush is ordinary, not silicone, rather large. The form is not classic, but not zamudrennaya – slightly narrowed in the middle and sharpens towards the end.


When you take out a brush from a bottle, a mascara stretches behind it, a tail is made on the tip. The very ink of rich black.
It would seem – some advantages, but …
The smell of the mascara is very strange. I can not explain it, usually overdue cosmetics smell like that, I still feel notes of household glue and fermented fruit compote.
This is the palette of flavors that catches my nose. And, apparently, it sends signals to the brain that there is something wrong with this ink. It even seems to me that when I inhaled the smell for a long time, trying to understand it, my head was spinning a little (although, most likely, I wind myself up).
At your own risk and put on your eyes – the effect of the usual mascara for day makeup, no wow, but not horror, horror. The eyes did not itch, did not turn red, in general, no side effects, pah-pah-pah, did not arise. During the day the mascara did not crumble and did not smudge.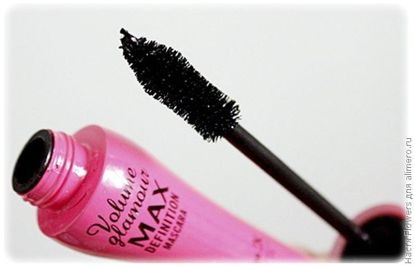 Mascara is washed off easily, even with water, it disappears in pieces, without requiring any additional makeup remover.
By the way, with exactly the same name and design there were two more carcasses, only a bottle of green and yellow. I think their content is the same.
Do I advise this mascara?
It is difficult to say, yet I fear a little because of the smell and so low price. I still won't use it, but it was curious to try. In any case, I will wash it and keep a brush for combing cilia and eyebrows 🙂
Have you tried inexpensive Chinese cosmetics? What do you think about her?