Once upon a time, our mothers and grandmothers could not even think about how much of all kinds of cosmetics would be at our disposal. For example, call someone a word tonic, they would consider it a curse word. And we smear their face! To tell you the truth, a face tonic is an extremely useful thing.
From the name tonic, one can decide that its main property is to tone up the skin. But it is not. Cosmetologists say that first of all, tonic cleanses our skin, nourishes it with antioxidants, refreshes, and normalizes the PH after cosmetic procedures and makeup.
What is tonic for?
Apply tonic can be in two cases: as a cleanser after removing makeup and as a refreshing agent during the day. Even when we sit at home or sleep, our skin finds pollution somewhere. And they can be dust, microparticles, deposited on the skin, and, if the skin is oily, it is even more dirty.
Usually tonic does not contain alcohol and has a moisturizing effect. That is, this cosmetic product is designed to gently cleanse our skin. There are matting agents that specialize in oily and problem skin, they may contain alcohol. But they should be used with caution. For regular cleansing enough neutral tonic.
Cosmetologists also recommend applying a tonic before applying moisturizers to the skin. It is proved that the skin perceives moisture better after cleansing with tonic. Also, the ingredients in the tonic help to retain moisture and enhance the benefits of the cream.
In addition, simple washing is not enough to completely cleanse the skin. And the composition of tap water is not the best substance for our skin. Well, if it is soft and does not contain iron and other heavy metals. In most cases, it is better to use tonic, as an alternative to daily evening face wash.
Tonic One hundred beauty recipes
It is good if the tonic contains one of the following components: thermal water, rose water, green tea. These components are excellent antioxidants, regulate skin exchanges, refresh and gently cleanse the skin. Also, none of these components usually cause allergies, even in sensitive skin.
I love our cosmetics for its simplicity and cheapness. Moreover, the cheapness is not just out of economy, but in comparison, completely justified. Often you will buy expensive means in the hope that, the more expensive, the more effective, but you do not feel much of a result. And sometimes, on the contrary, you buy something cheap with the thought that it may be worth it for a rainy day, but suddenly it pleasantly surprises.
Such a pleasant trifle was the face tonic Hundred recipes of beauty. I use it in the evenings to cleanse my skin. My skin is quite sensitive. For example, in the winter I don't wash my face at all in the mornings in order to avoid peeling from frost or weathering. But during the day, the face is still polluted. Therefore, after washing with water, I often use tonic.
Face tonic Hundred recipes of beauty from a series of moisturizing and freshness based on aloe and rose water. Aloe is the best anti-inflammatory agent that heals and relieves redness. Rose water is an aqueous solution of rose essential oils, used to cleanse the skin, give it elasticity, eliminate dark circles.
Rose water is suitable for sensitive skin, as well as aloe reduces inflammation, and can be used as part of other means, as well as an independent means. Rose water relieves skin tension, improves complexion, and is best suited for use after a hard day.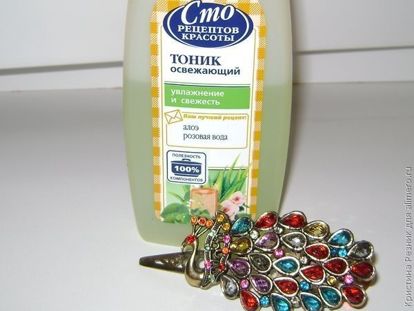 As a result of the application for two months, I can say the following.
Pros:
– tonic does not cause allergies, does not dry the skin;
– after rubbing the face with a tonic, a pleasant chill and freshness is felt;
– removes dirt and excess fat accumulated during the day;
– unobtrusive smell.
Minuses:
– the only negative – I have a drip bubble. The problem is purely subjective, does not apply to the properties of the tonic. But, as a claim to manufacturers, very much even come down. As always, I was lucky and probably got defective packaging. Therefore, now the whole shelf in the bathroom is filled with tonic.
I can't say anything bad. Feelings are only pleasant. I even wanted to try something else from the Hundred recipes of beauty series.
Have you tried the cosmetics of this series?
Reznik Kristina for the site alimero.ru