I learned about the three-step skin care system from Clinique from glossy magazines for a long time. Madly wanted to try it, but the price confused me. A year ago, I decided to pamper myself on March 8th – and I will be happy to share my impressions.
I think if you are interested in this series, then I know that you can meet very different reviews. And it seems to me that most of the negative due to improper selection and use of funds.
First, all three means should be used in a complex, separately the effect will be different. And secondly, a 3-step system is not a complete care, but rather a cleansing of the skin, that is, three remedies should be practically regarded as one thing, and then you must use a nourishing or moisturizing cream (at least for the night).
Each type of skin – on demand
Almost all Clinics products are available in three versions for different skin types. Under the single agent means for very dry skin, a double for a combination and prone to dryness, and a triple for a combined, but prone to fat.
It attracted me a lot, because my skin glitters on the T-zone, but with more dry areas. As you know, for combination skin, remedies are usually marked as well as oily, therefore it was very surprising to see on the Clinique packaging for combination and dry-prone skin.
One two Three!

The 3-step system, as the name implies, consists of three steps: cleansing, exfoliating, moisturizing.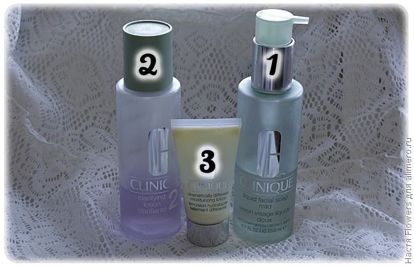 For each stage, its means – soap, lotion and cream. For different types of skin there are some differences (for example, for oily skin instead of cream – gel).
My system consists of liquid soap, tonic and moisturizer. Soap and cream almost do not smell anything, but the tonic is vigorous, when opened into the nose it immediately beats with alcohol.
• Liquid Facial Soap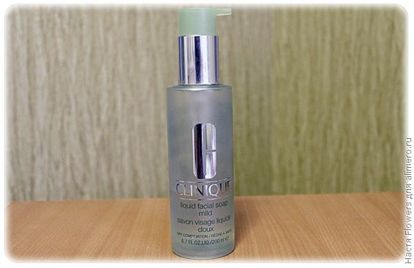 Liquid soap removes skin well, but does not remove makeup, you need to take care of this in advance. Foams well, when using try to avoid the area around the eyes. Very convenient dispenser.
• Clinique Clarifying Lotion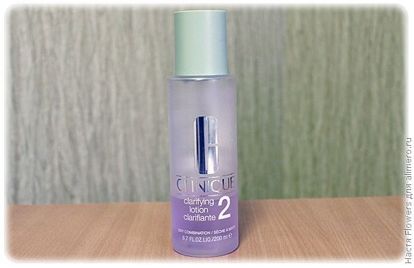 Exfoliating lotion, as already said, smells strongly of alcohol, but it does not frighten me. The most important thing is to follow the instructions, namely, to hold a cotton pad once, and not to rub across the face here and there, as we are used to with ordinary tonics. Otherwise, you can very dry the skin, which is usually written in the negative reviews.
• Dramatically Different Moisturizing Lotion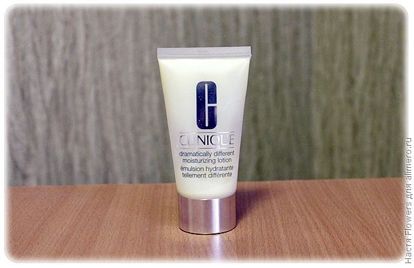 Cream lotion is designed to restore the balance of the skin after exfoliating tonic, so after it you should use the usual care. That is, in three steps, we have completely cleansed and restored the skin, and now it will perfectly absorb the subsequent remedy that will work better.
Result of use

I really liked this system. After a year of use, I still have enough soap and tonic, and the cream comes to an end. I do not use it every day, because there is not always time, I have enough 2-3 times a week for the night so that the skin looks good.
After application, it feels like the skin is breathing, I cannot explain this sensation, but I like it.


The only negative is the price, I bought the shares with a tremendous discount, but without it, each tool costs about a thousand … I will gladly use it further and will wait for the shares to be set-ups.
By the way, Clinics is a very generous brand and often there are promotions with samplers and miniatures. This is how I tried the system for the first time – I asked testers from consultants, I had enough of them for three applications, after which I decided to buy a set.
In general, I love this brand and try to follow the stocks to try something new.
And how do you care from Clinique, what did you like and what didn't?