Last time I promised to tell you about my thermal waters. Today we will focus on the thermal waters of Eau Thermale La Roche-Posay and Eau Thermale Source de Vichy.
What is thermal water?
Thermal water is water that comes from hot springs. It is very rich in minerals and trace elements (calcium, magnesium, silicon), which have beneficial properties for the skin. Thermal water can refresh the face in the summer and not only fix the makeup. I use thermal water instead of face tonics.
Thermal water soothes the skin, combats redness and irritation. This water has no contraindications and is suitable for all skin types. There are 5 types of such waters: isotonic (neutral), sodium bicarbonate (suitable for fixing makeup), with selenium content, slightly mineralized and with plant extracts.
Thermal water La Rosh-Pozé
Manufacturer (France) promises antioxidant and soothing properties due to its high selenium content. Softens and moisturizes the skin, eliminates discomfort. I have a balloon with the largest volume – 300 ml, there are smaller bottles. Always keep it in my bathroom.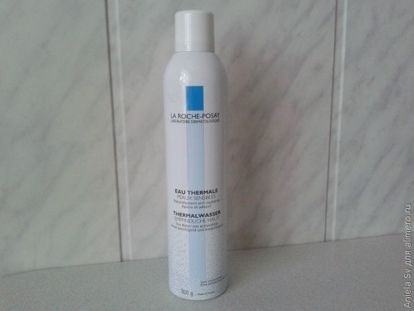 Water is in a metal container under pressure. The container is opaque, with a convenient spray that gives a very fine spray. Water has neither taste nor smell, it pleasantly refreshes the face, it is absorbed instantly, the skin does not dry. Ideal for toning the skin before the subsequent application of the cream.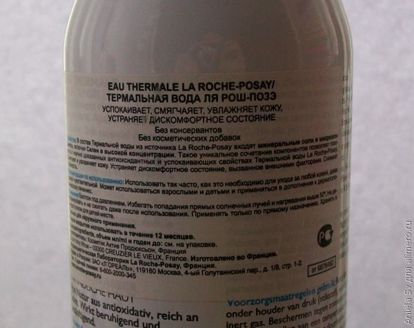 Economically spent on the whole face I have enough pairs of pshikov. This water can be left on the face until it is completely dry, the skin will not pull off. In the composition – water and gas, which is needed to supply water through the spray. Price for 300 ml – 460 rubles.
Vichy thermal water
The manufacturer (France) promises a hypoallergenic product that soothes the skin, reduces redness and strengthens the protective properties of the skin. I have a 50 ml travel version (I carry it in my purse with me)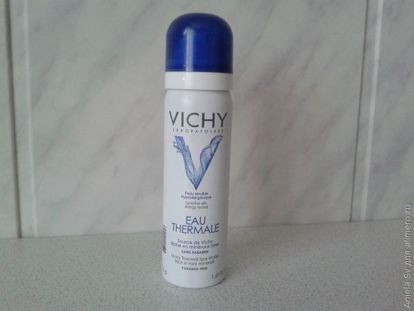 Just like La Roche Pose, the water is in a metallic opaque bottle with a convenient spray. Here the spray is not so small. This water has no smell, but its taste is slightly salty (as it refers to sodium bicarbonate).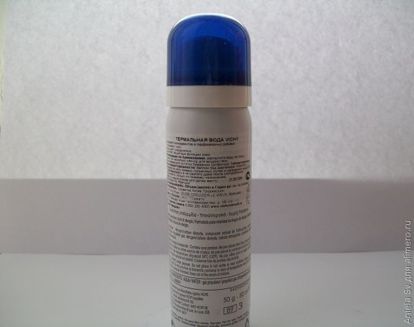 This water should not be left on the face until it is completely dry – it tightens the skin. Therefore, you need to promakivat it with a paper napkin or immediately apply the cream. I use this water to fix the makeup or to refresh the skin during the working day. The price for a bottle of 150 ml is 350 rubles.
The composition also includes water and gas. Water is the same economical. I also noticed the plus of such water: if you, for example, get hurt and sprinkle a wound with such water, the wound will heal faster.
Thermal water is very good for the skin. I have been using them for about a year and noticed a difference – my skin has become cleaner, less inflammation has begun to appear, dryness has gone away from dehydration. In addition, thermal water is a natural product and does not cause any harm. I advise everyone to try!