For several years now, a can of thermal water has occupied a permanent place in my bathroom, and its miniature version is in a purse. Recently, the benefits of this tool say quite often. Today I would like to share my knowledge and experience.
Thermal water is cleaner than mineral water, because it lies deeper in the bowels of the earth and is subjected to pressure and high temperatures, while it contains more mineral salts and trace elements.
It contains bromine, iodine, copper, iron, fluorine, chlorine, magnesium, sodium, and many other minerals.
It is especially useful in summer – it perfectly refreshes, replenishes the water balance of the skin, cleanses it. This tool speeds up the metabolism in the skin cells, increases resistance to negative environmental influences, increases the natural protective properties of the skin. And in the winter you can't do without it – at the height of the heating season, the skin of the face especially dries out.
My first thermal water was VichyEauThermale. Honestly, I was amazed by its great effect – the complexion improved instantly, a feeling of freshness and radiance appeared. Unfortunately, that water, which was 5 years ago, and modern analogues are two big differences. Yes, they refresh and slightly moisturize, but no more.
Various wonder water tanks are offered by many manufacturers – Avene, LaRoche, Vichy, Evian, Uriage. Usually the product is available in the form of 50ml miniatures, which is very convenient for traveling and using during the day. There are also containers of 150 and 300 ml, which are much more profitable to buy than their small counterparts.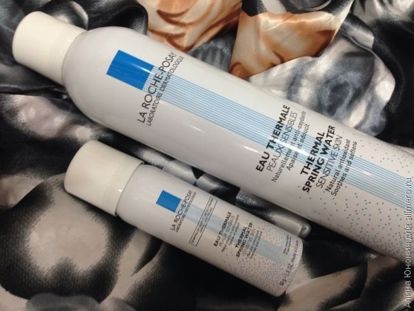 Eau Thermale by La Roche-Posay
A barrel with a capacity of 300ml costs about 400 rubles. (110 UAH). Also on sale are miniatures of 50 ml, however, buying them is absolutely not profitable – the cost is about 200 rubles. (53 UAH). It is much more pleasant to receive them as a gift while holding various stocks in pharmacies.
The manufacturer (French laboratory LaRoche-Posay) states that this thermal water is enriched with mineral salts, trace elements, including selenium, which is a natural antioxidant.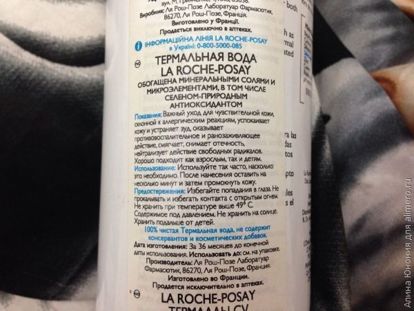 Like the rest of the products of this company, thermal water is great for sensitive skin. It is good to use it after various cosmetological procedures – masks, peels, because water soothes the skin, softens, removes puffiness.
For me, the packaging of products is of great importance – it should be as convenient as possible and facilitate the use of cosmetics. If we compare the main competitors – Avene, LaRoche, Vichy, Uriage, then the best atomizer (spray) is from LaRoche. Its pressure is small, the particles of liquid are the smallest possible size, just press the button once to cover the whole face with thermal water.
Manufacturers recommend using thermal water as often as necessary. For example, during the working day in a stuffy office it will be enough to use it at least 3-4 times.
The advantage of any thermal water is that it can be applied to the face with makeup. It is necessary to spray from a distance of 30-40cm, leave for a few minutes, then gently blot the face with a napkin.
The bottle indicates that water should be avoided in the eyes. However, they themselves involuntarily close themselves during the spraying of water on my face.
In terms of price-quality ratio of the thermal waters presented in the pharmacies, I consider EauThermaleot LaRoche-Posay on the condition of buying a bottle with a capacity of 300ml (400r / 110grn).
Of course, thermal water will not be able to cope with problem skin – it will not eliminate inflammation, it will not clean pores, it will not cope with very dry skin. But as part of a comprehensive care, this tool is an excellent assistant. And for normal skin, it can even be used instead of moisturizer.
Do you use thermal water?