I already wrote about the products of the Thermal Line line – eye cream and hair mask from the Belarusian company Vitex. Pleasant impressions from them were the reason that I bought another tool – day cream for the face.
As I already wrote, all products are made on the basis of thermal water from the French source Raphy Saint-Simon Est. They also contain an extract of thermal microalgae, which also has a beneficial effect on the skin and hair.
Thermal water is groundwater that comes to the surface in the form of hot springs or geysers. Its value lies in the huge amount of minerals and trace elements.
The cream is designed to moisturize the skin, saturate it with useful minerals, align its microrelief, increase elasticity and elasticity.
As a result, after applying the skin becomes soft, velvety, radiant, has a healthy and fresh look.
While I do not need to use two types of creams – day and night, I have enough day (morning and evening). Perhaps, if I had more dry skin, then it would be worthwhile to acquire another means for nighttime use – more nourishing.
For me, smell and packaging are important. The first item of all means of the Thermal Line line absolutely satisfies me – the smell is very pleasant, fresh, unobtrusive, original and even a little marine.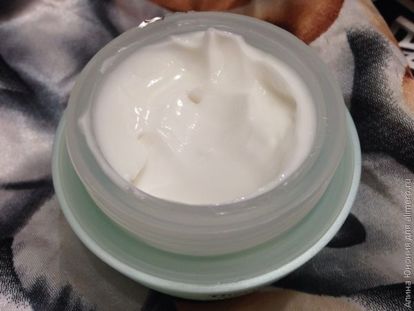 But with the packaging things are a little worse. Although, of course, it is unreasonable to expect the presence of a ceramic or glass container from a product that costs 120r. (28 UAH) for 45 ml. But, honestly, I am ready to pay twice the price for the package.
Before that, I used the Triple Oxygen Day Cream from the same company. If I compare these two products, I like the Thermal Line cream more. Firstly, because of the smell, and secondly, it has a more delicate structure and, accordingly, it absorbs faster. And thirdly, although the moisturizing effect of the products is about the same, but the cream with thermal water still gives the skin some radiance and a healthy look.
True, the manufacturer got a little excited, indicating that the effect is noticeable after the first application. This is not true, after all, budget funds, alas, do not possess such a property, unlike their more expensive counterparts.
In the presence of water, thermal water (although it is on the second list, which means a smaller amount of it than ordinary water), glycerin, coconut oil, yeast extract, apricot kernel oil.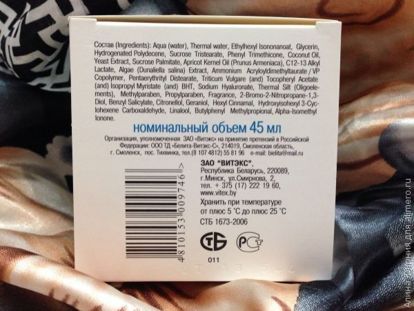 As you can see, a lot of natural ingredients.
If you are the owner of normal or combination skin without any problems, I recommend you to try Vitex Thermal Line day cream for the face.
The tool is ideal for the age group of 20-30 years, perfectly moisturizes and refreshes the skin, it does not clog pores at all, absorbs within a few minutes (no need to wait long before applying makeup).
Have you tried the Thermal Line products?