For me, the tonal framework from MaxFactor – one of the most beloved. But from the Second Skin Foundation left double impressions.
Second Skin Foundation – foundation with a rather dense texture. Manufacturers claim that when creating the cream, a new technology of multi-tonal pigments was applied, thanks to which the tonal framework miraculously merges with the natural complexion. Contains moisturizing ingredients. Bottle with dispenser, which is very convenient. Acquired for $ 18.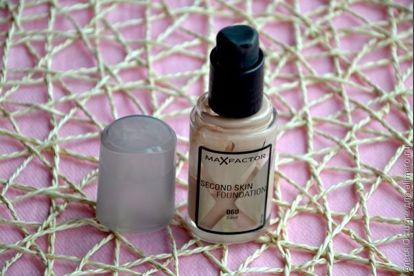 Personal opinion

For me, the tonal foundation of the Second Skin Foundation did not become a favorite. I previously used tonal creams from MaxFactor and I can say that no innovative technology has anything to do with it. More precisely, it may be, but the average man is unlikely to feel the difference.
Due to its dense texture, the tonal framework copes well with the masking of skin defects, but oily shine soon appears without powder.
The most unpleasant discovery for me was the fact that after a while the texture becomes non-uniform: the colors are stratified. On the skin, with careful application, everything merges back into one, but the impression is still spoiled.
At first, I thought that I came across poor-quality products, but as it turned out, I am not the only one.
In general, the second time I will not buy it for sure, except that they will offer for free. Although the Second Skin Foundation perfectly hides the defects of the skin, but many other tonal bases, which have much fewer minuses, also cope well with this function.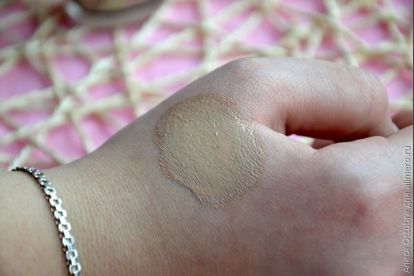 Benefits

– masks defects well
– dispenser bottle
disadvantages

– quickly appears shine
– colors are stratified
– after talking on the phone, an impressive imprint of the foundation is left on the screen.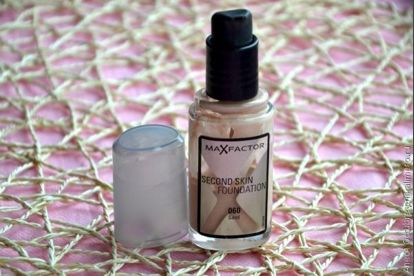 Useful tips

This tonal framework is best applied with a sponge or fingertips, as when applied with a brush it is very difficult to achieve a uniform color (due to the dense texture and the separation of colors). Personally, I mix the Second Skin Foundation with the Comfort Cream from Yves Rocher – in this combination, the foundation acquires greater stamina and airiness.