A few years ago, I worked as an Art-Visage cosmetics consultant. Since that time I have a few favorites from the range of this brand. Today I will talk about such a product – modeling mascara Creative.
The manufacturer (Russia) promises the maximum volume of eyelashes without weighting, the effect of false eyelashes, the lack of gluing when applying several layers. D-panthenol and natural waxes nourish, soften and care for eyelashes, stimulate their growth and protect against adverse factors. Moistureproof.
The mascara is in a simple black plastic case with a spectacular lid with an insert of transparent plastic and gold framing. Does not look cheap. A volume of –14 ml is a lot compared to standard carcasses. The lid does not snap, so you need to ensure that the mascara is completely closed.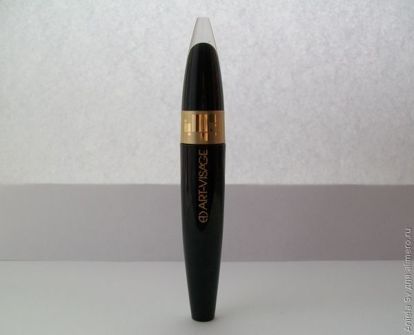 Brush and application
The brush of a classical form, nap. Carcasses are gaining in moderation – one dipping is enough for one eye when applied in one layer. Color is saturated black. The carcass has a good limiter that does not gain excess. When applied mascara does not stain the upper eyelid.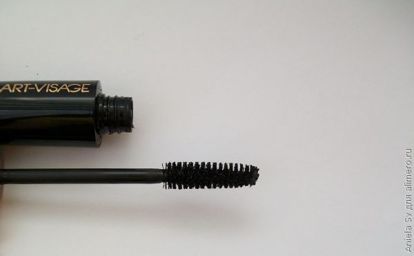 It really gives a noticeable amount and lengthening, while the eyelashes do not stick together and do not form lumps. Eyelashes remain soft. When applied in two layers gives a noticeable theatrical effect of false eyelashes. The volume is held all day, the bend also fixes for the whole day. In the process of socks is not smeared and not showered.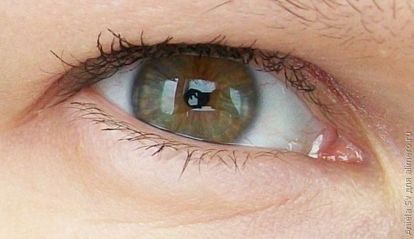 The mascara is claimed to be moisture resistant, but I'm afraid it is not. Light rain, it will not stand and flow black spots. We'll have to correct makeup. In the process of use does not dry out, you can use to the end.
Wash off relatively easily with any makeup remover. I wash it off with Balsam for removing permanent makeup. Divorce under the eyes does not leave. The eyes are not annoying.
Russian cosmetics pleases. Decent ink for relatively little money (200 rubles without discount). Enough for a long time, gives a noticeable amount. The only negative is the lack of moisture resistance is more than offset by its big pluses.