Six months ago, I first heard about a certain miracle tonal tool from Lumene. Over time, I heard about him more and more often and exceptionally good. The name made me smile – SS-cream. How to pronounce, still do not understand, because I heard different options.
I have been using it for a month now, so I'm happy to share with you whether he is as good at doing as they say.
This CC-cream is named the best foundation by the version of some magazines. YouTube bloggers constantly advise him, and reviews on the Internet also stimulate the purchase. And all would be nothing if in my city it was not so difficult to find.
Search history

Despite the fact that the CC cream from Lumen is no longer a novelty, in our stores few people have heard of it. And finally, a couple of months ago, he was brought, but in dark shades. I have scoured the whole city more than once, but nowhere was the light color.
In total, Lumene has three variants of CC cream: light, medium and deep. On sale there were only two last, and on light only samplers. Desperate to find the color I needed, I asked every little store to give me a sampler, since there is no tone itself. And since it was a novelty, and the probes were all completely new, so I decided to take a chance. Many consultants met me and I raised enough funds to understand that I want its full version.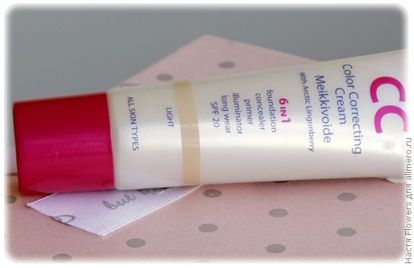 The most annoying thing was that I really liked the tonal tool by the testers, but it was not possible to buy it. I had to order on the Internet.
Description and manufacturer promises

The full name of the product is Lumene SS Color correcting сream Absolute perfection, as you already understood, in the Light shade. CC Cream combines 6 properties in 1:
– blends with skin tone
– corrects imperfections
– gives shine
– keeps all day
– smooths
– protects from the sun, because have SPF 20
In general, the marketing ploy, break the traditional description into 6 properties and pass it off as a feature.
We are also promised that SS-cream is weightless and is not felt on the skin, but at the same time, due to the high concentration of color pigments, it gives a good coverage.
Suitable for all skin types, does not contain parabens. The volume of a tube is 30 ml, the price is on average from 300 to 400 rubles.
My impressions

The packaging is very convenient – a thin soft tube with a bright lid, stands upside down, i.e. always ready to go. It is convenient to keep not only on the cosmetic table, but also to take with you on trips, because takes up little space and is not heavy. There is a small spout under the cover.
The texture of the SS-cream is of medium density, it does not flow from the hand and at the same time is easily extinguished by the hands. To use this tool, do not need special brushes or sponges for application. Color adapts quickly and blends in with skin tone.
I really do not feel the SS-cream on the face, no sense of mask or tightness. The skin looks very natural, the promised shine is more likely not even shine, but a barely noticeable radiance of natural leather. Explicit shortcomings will not hide, but they rarely happen to me. My main requirement is to make the tone uniform, not to emphasize desquamation and to be imperceptible. With this Lumen copes with a bang.
This CC Cream has become my favorite

At the moment, it is one of the best tonal creams that I used: it has a convenient package, a pleasant texture, does not dry or tighten, adapts to the tone, levels it, resistant, there is SPF, not visible on the face.
But I can not fail to note the disadvantages: light coating, will not hide obvious imperfections, does not matte, only 3 shades.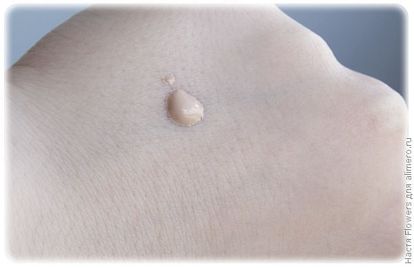 I am very pleased with the acquisition, I will definitely buy more! I really hope that when this tube is over, a light shade will be delivered to our city.
Have you tried this CC Cream?