On this bright summer and sunny day, I decided to tell about my cosmetics. I would like to tell a lot of things, but I'll start, perhaps, with the basics of my everyday make-up, more precisely – the means for it.
1. Eyebrow pencil – LUMENE Arctic Definition (ton2) and Eye pencil – LUMENE Arctic Amethyst (tone 3).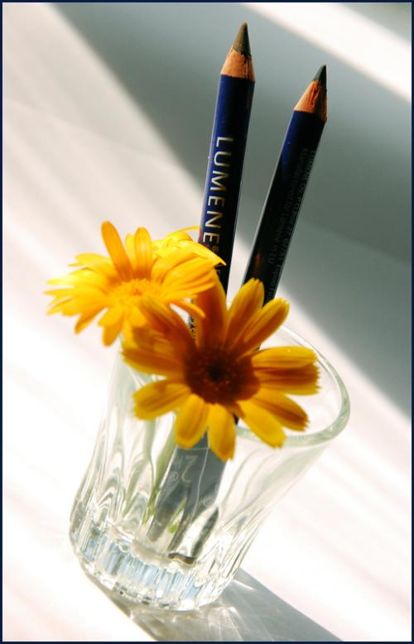 For several years now, I have been buying eyeliner and eyebrow pencils exclusively of the LUMENE brand. I have a lot of arguments for this. First, juicy and moderately resistant colors. Secondly, these pencils are pleasant and almost invisible on the skin. And thirdly, this, of course, quality. It can be seen and felt immediately. And this makes me very happy, because earlier I had been looking for my ideal for a very long time and finally found it.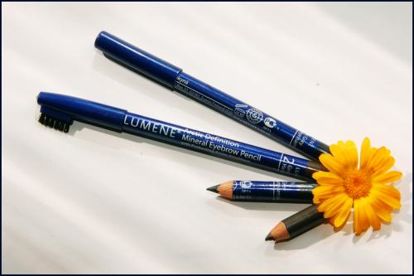 But I want to mention one detail, which I consider to be a small minus.
When buying new pencils (of the same brand and of the same tone), I always find some differences in color scheme. That eyebrow pencil is a little lighter than the previous one, then the eye pencil, on the contrary, is brighter and richer than we would like.
For the eyeliner of the inner part of the eyelid, I prefer not black, but dark gray, one can say, asphalt color, in LUMENE referred to as tone No. 3. Make-up due to this tone takes on a more natural (non-catchy) look, ideal for everyday everyday and business style.
2. The next tool that I would like to talk about is eyeliner brand Cherie ma Cherie (BLACK).
To give my eyes brightness and mischief, I use eyeliner.
I, to my shame, never learned to use liquid liquid liners. I can not get straight lines. The brush constantly wagged and created uncertain contour charts on my face.
When I found out that I had released new eyeliners in the form of a felt-tip pen – I immediately rushed to the store in search of this miracle. First, without understanding, I took the first eyeliner, (and not quite cheap), and immediately appreciated its advantages and disadvantages (the second, unfortunately, turned out to be much more). But I liked the idea myself!
The main disadvantage was in a thin, completely non-elastic base, which, with the slightest pressing, deviated in different directions, which prevented me from producing such a difficult jewelry work.
Soon I got acquainted with the new eyeliner of the series Cherie ma Cherie.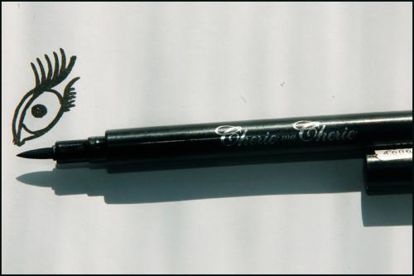 From the first moment to this day I do not part with it.
Bright, pleasant, persistent … I grab it for 2.5 months of active use. Very comfortable. With her, I can draw even the thinnest lines in the corners of the eyes. There are no allergic reactions, absolutely not felt on the skin. It gives the look a more expressive and bright look. And I was pleasantly surprised at the cost. Almost two times cheaper than its predecessors.
3. Eyeshadow – Cherie ma Cherie.
Well, in conclusion, I want to say a few words about the shadows of the same brand Cherie ma Cherie (604).
A couple of months ago I was getting married. For each bride this is a special event, everything should be at the height and the right makeup here is the main thing.
I wanted to find something new, easy and unconstrained for this day.
The choice fell on the shadows of the brand Cherie ma Cherie. The palette seemed very nice. The shades of pink, white and brown made a positive impression on me.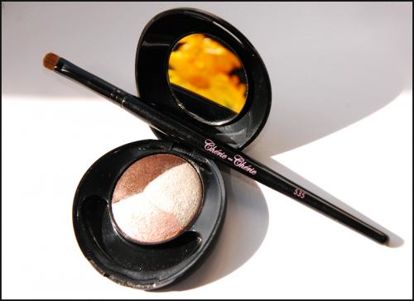 Fortunately, I have the habit of coming home immediately to try on new purchases. So I did this time. In the evening (almost the night before the wedding) I decided to rehearse my festive makeup. And when it came to the shadows, I was very sad.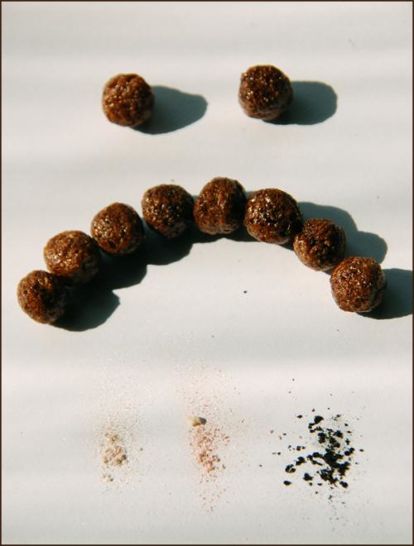 Shadows were terribly unpleasant. Created a feeling of discomfort. Lay down disgusting. Crumbled, and everything else was very bright. They all consisted of solid large shiny pea-like peas that scattered all over my face and with a cry of hurray, freedom fell on my neck and even on my hands.


There was only one way out – to use my everyday favorite shadows, which again and again without fail help me out!