Today I want to show a simple technique that not only looks spectacular, but can also help fix some manicure problems.
Somewhere and once I saw a similar manicure, and this technique was called the cloud. But to repeat it I was inspired by the wayward red lacquer. About this – a little later.
What we need: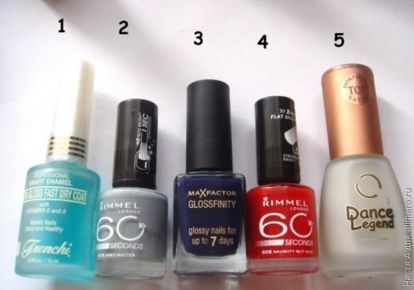 Yes, almost nothing) No brushes, dotters, disks, stickers. Choose three varnishes, which, we think, look great together. In my opinion, it should be either contrasting, or vice versa, varnishes of similar shades. Well, top.
1. Ultra gloss of nails from Clever enamel
2. Lacquer RImmel 805 Gray matter
3. MaxFactor Glossfinity 135 Royal Blue Varnish
4. Lac RImmel 305 Naughty but nice
5. Covering Dance Legend Satin – optional, pampering)
After the base is applied to the nails, we cover it with the main color. I had a red RImmel 305 Naughty but nice, because of him, in fact, everything started. I really liked the shade – red, almost neon. But it turned out that for my nails it is too jelly. One layer looks like this: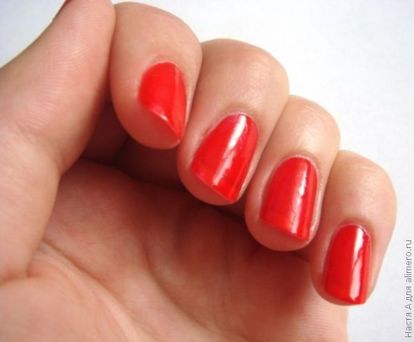 I generally have very white nail tips, but this rarely creates problems. And then – at least one layer of lacquer to go to bed with dignity – they are still very visible. I put the second: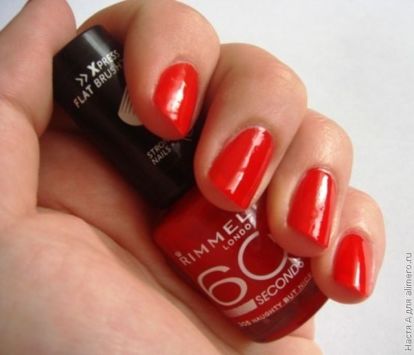 The coating is good, there is a gloss – but the treacherous tips of the nails are still visible! And then I decided that than to apply a myriad of layers, I'd rather do something more fun)
We take the second varnish, intermediate. I have this gray RImmel 805 Gray matter. I think it will be very bold if you take some silver or gold for this step.
Three parallel movements of the brush put it on the nail. The degree of roundness-squareness of clouds does not depend so much on the skill, but on the specificity of the brush. With a thick Rimmel tassel, I had rather square clouds: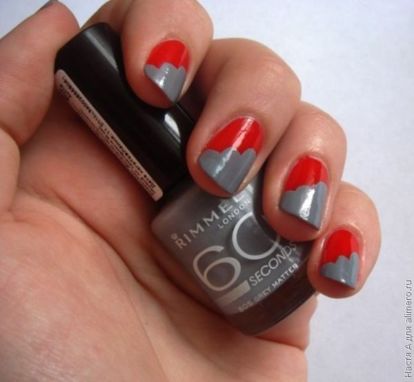 In principle, you can cover the top, and leave it like this: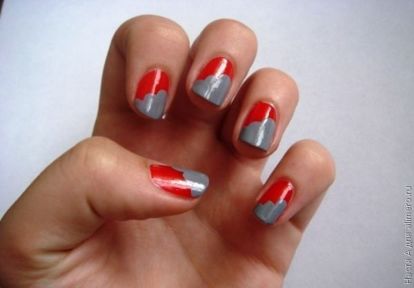 But I went further)
We take the third shade and cover it in the same way, with three parallel ones, but already grabbing a smaller part of the nail. If desired, you can make the second layer very thin stripes, and you can leave at least half of your nail.
I had MaxFactor Glossfinity 135 Royal Blue lacquer (a great shade, by the way). And here the fact that his brush was already Rimmel, helped me a lot – it was easier to paint small clouds.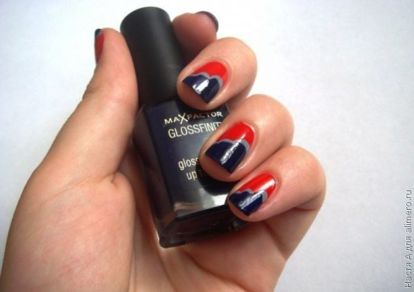 Well in the next – we wait until everything is dry and cover the top. I admit, I have a weakness for matte nails, so I cover almost all manicures with a matte top) Sometimes the result exceeds all expectations, and sometimes it disappoints. This time, I confess, I did not like the matte version: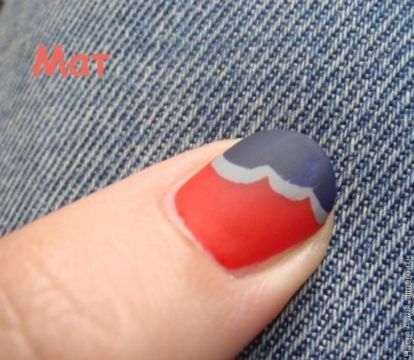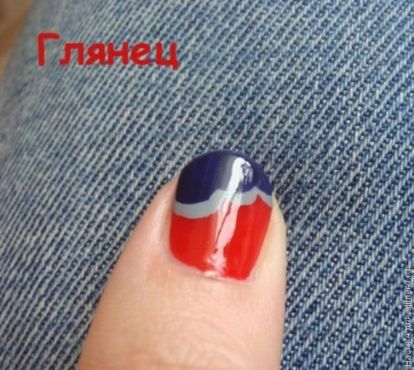 So I covered all the nails with a glossy top from Smart Enamel and on this completed the manicure. Eventually: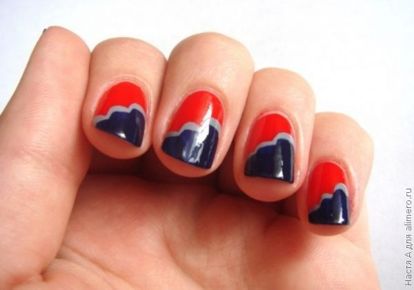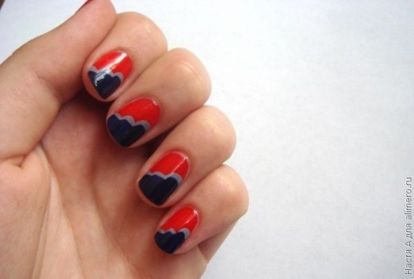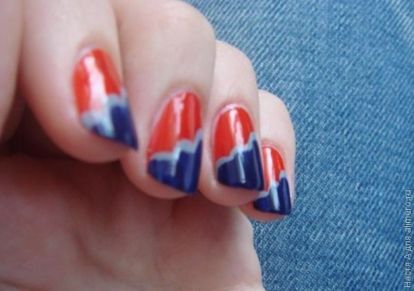 The result was such a very simple manicure. Besides the fact that it is available even by the fact that he did not find in himself any drawing abilities (I didn't find one)), he can also help in a number of situations: like me, when the varnish is too transparent, or when the tips of the nails are wiped, after a few days of socks, or something somewhere broke off, smeared, and there is no time to wash and repaint.
And besides, depending on the shades and area of ​​coverage, it will always look in a new way.
That's all. Thank you, then read)