Doubt and decision making
For a long time I decided – to do or not to get a tattoo. Tormented, doubted, and finally made a decision. The next choice was the place and what I want to depict, because this is for life, so there must be something symbolic, neat and discreet.
Long chose between the hieroglyph and the inscription, and yet my opinion was inclined to the inscription. Here, thank God, I had no doubts. I wanted to write my life credo: never give up.
According to reviews of friends, she quickly found the master and, without telling anyone, went to the salon. My birthday was nearing, so it was my peculiar gift to myself. She came to the salon, met with the master. Then we chose the font with which to draw the tattoo.
The only thing I was afraid of was pain. But, probably, it is for everyone. The specialist assured me that it would not hurt, so a slight tingling, like a mosquito bite. The place where the tattoo will be stuffed, I chose the wrist.
The machine turned on, the sound was like that of a dentist's dental drill. And the master set to work. Yes, it was unpleasant, very sweating hands, but it was summer and the heat, maybe because of this. Half an hour later I had a delicate and neat inscription on my hand: Never give up.
I paid $ 40 for a tattoo and have no regrets. A week smeared it with a special tool, then the crust fell away and even the correction was not needed.
Of course, everyone's opinion was ambiguous. Relatives and friends were delighted, parents and relatives twisted at the temple. To put it mildly, they were at a loss. You can't do anything, so there was no sense of indignation.

Tattoo – a state of mind
My tattoo is 3 years old. I forget about her, which means that she does not bother me at all, and has become like my own. Someone may say that this is a fashion trend, because now every second has an inscription on the wrist.
I will not argue, but this is my state of mind. When I find it hard and give up, I look at her and understand that you can't give up. You know, the forces appear.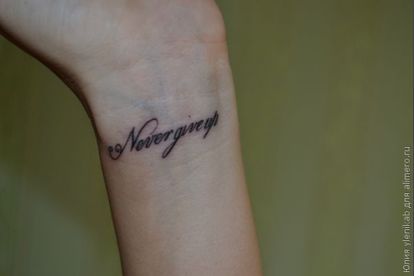 I wanted to make a few more, but also small and barely noticeable. But it was not all that. And now my MCH is categorically against another tattoo (the first one was made before I met him). But my birthday is nearing, and I think that I will again make myself a present.
And what is your attitude to low-key tattoos?