Scrubs I love very much. With their help, horny skin particles are so easily removed, the pores are cleaned, the skin becomes smoother.
I believe that the function of this tool is more mechanical, so I don't see sense to pay crazy money for the same granules. That is why I prefer to save on scrubs by choosing budget offers from domestic producers.
Sugar scrub for the body Orange and Mango from the Ukrainian manufacturer Elf is quite inexpensive – taking into account the promotion discount it cost me 60r. (22uah) for a jar capacity 225ml.
As after the use of similar exfoliating products, here the manufacturer promises Gentle removal of dead skin cells of the epidermis, which promotes skin renewal. Orange essential oil improves skin elasticity, fights cellulite. Well, due to the aromas of orange and mango, I was guaranteed a sunny mood.
Essential oils are indeed present here, albeit in small quantities. At the first place cane sugar (sucrose). There are also sunflower seed oil (helianthus seed oil) – in second place and mango extract.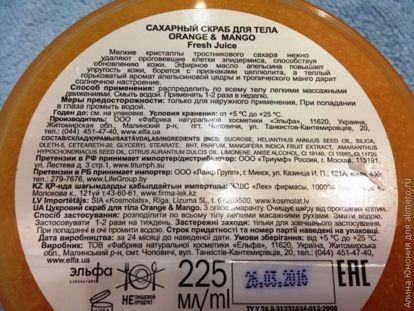 Like most body scrubs, this is rather coarse-grained. I would even say that it is so coarse-grained that it should be applied with great care on delicate skin areas – the decollete area, for example. On the other hand, thanks to this quality, it perfectly cleans the feet.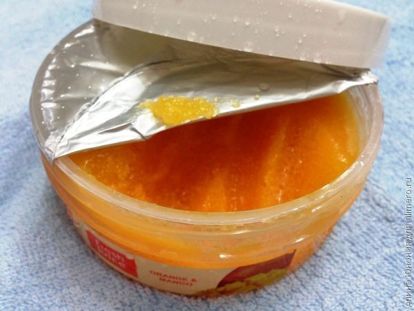 Due to the presence in the composition of essential oils, the aroma of this product is really summer, citrus and sunny. However, this extravaganza does not last long – there was no smell after the shower.
The scrub performs its functions perfectly well – the skin after it is perfectly smooth and gentle. I can't say anything about the fight against cellulite. Firstly, I do not have it, and secondly, there are other more effective methods for fighting it. Although, as part of complex therapy, he has the right to exist.
The only drawback I consider the packaging – a flat jar with a twist is not very easy to open and close with wet hands. Although, the dispenser would not fit here, of course. And for a tube, the texture is too coarse.
I am very pleased with the sugar scrub Orange and Mango. It rarely happens that for the minimum amount of money you can get such a number of positive emotions. In the summer it is enough for me to use it once a week, in the winter and even less.
TM Elf products are also imported to nearby countries, so if you see the Orange and Mango scrub on sale, buy without thinking!
What kind of body scrub do you use?