In one of the cosmetic stores at the checkout different masks hung, and I was attracted by one of them – steaming mask Oatmeal from the Korean company Skinlite. It cost about 50 rubles, grabs it for two uses, so I decided to try.
I must say at once that this is not such a steaming mask that should cleanse the pores and replace the effect of the sauna. This is a nourishing mask for dry skin, so it is necessary to expect from it just hydration and nutrition, and not cleansing.
Description and manufacturer promises

This mask is anti-stress, nourishing, relaxing and soothing. When interacting with water, it heats up and creates the effect of a warm towel on the face. It contains honey and oatmeal, known for their beneficial properties.
Packaging is intended for two applications, in one bag of 7 ml.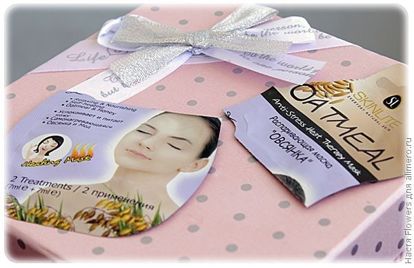 Before use, you must clean the face and wet it with warm water. Then, without wiping, distribute the product, avoiding the area around the eyes and lips, wait 20 minutes and rinse. You need to do this manipulation twice a week.
Rare stuff?

When I came home, I immediately began to look for reviews on Ovsyanka. In every second, not the most pleasant things about this mask were described, so for the first few days I was even afraid to use it.
The girls wrote that it smells terrible, looks like something unpleasant and slimy, flows down the face, gets into the eyes and on the lips and burns terribly, does not steam anything and does not cleanse. In general, nothing good.
Long thought, but still decided to try, because there were also good reviews.
My impressions

I already wrote above about steaming, so I did not expect it. But as for the smell and texture, they are normal. The smell is cosmetic, even pleasant, the consistency is not very liquid, it is easy to apply on the face, it does not drain and does not get into your eyes.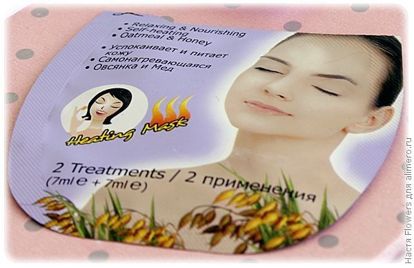 Has put and I sit I wait, when starts to pinch, but also it did not occur. Even for the sake of interest, she put a little bit on her lips — also nothing, no hints of burning. By the way, the heat from the mask is very light, and almost immediately disappears.
Once washed, the skin was pleasant to the touch, soft, peeling on the cheek became less. So I liked this mask. I still do not understand why so many negative reviews, probably, all have very different reactions.
Summing up, I can say that Ovsyanka well nourishes and soothes dry skin. For normal and oily, I think it is better to look for something else, but for dry it is quite a good mask. True, the price is more expensive than masks in banks, but as a road option I will have this mask in mind.