How many times did I make up my nails – and after a few minutes, small bubbles appear on the surface. The more the varnish dries, the more conspicuous and hilly they are. Manicure is spoiled, sorry for the time spent … Today I will tell you why lacquers blister.
1. Undried layers
If I apply more than one layer of nail polish, then the first must be properly dry. If this is not done, then the second layer will surely pull the first one, make a bald patch in it, and then bubbles will come out.
Gaining varnish with a brush, you need to adapt yourself to grab the correct amount to paint the nail plate and not leave a thick layer of varnish on it.
Thick layers, moreover, dry for a long time. I carefully remove the excess paint from the brush, holding it on the neck of the bottle. And if the varnish is liquid, then I'd rather make up 3 thin layers for them and dry each one than 2 thick ones.
Varnish will surely go blistering, if you smear your hands with a cream before a manicure. Nails need to degrease. To do this, it is advised to wipe them with nail polish remover or even alcohol.
I prefer once again not to injure and so exfoliating nails with aggressive means. Therefore, before painting just wash my hands with soap. I wipe it thoroughly and wait a couple more minutes until it is completely dry.
Many girls shake a bottle of varnish before a manicure. But such an enrichment with oxygen will not benefit a manicure. Air bubbles, which fall when shaken into nail polish, are sure to come out later with bubbles on the finished manicure.
To mix the varnish, you can simply roll the bottle in the palms, as if rubbing them one on another. In many flakonchik there are metal balls, they are great help to mix the varnishes, if they are stratified.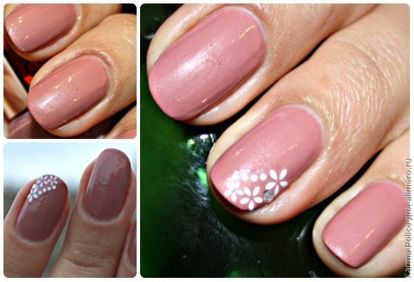 5. Wet nails
If I have just left the bathroom or have washed up a mountain of dishes, I will never sit down for a manicure! If the varnish does not peel off the next day, then 100% bubbles will be on it. Because the nails will remain moisture from water procedures, and the lacquer does not properly mate with the nail plate.
6. Uneven nails
If the nail waves and dents, they may remain air bubbles when varnishing. The problem is solved easily: nails must either be polished to smoothness with a special buff, or put a leveling base.
It turns out that this happens with manicure products! Recently I found out that my Essie varnishes do not want to sit on the bases of other companies! I bought my own and no bubbles!
8. Expired shelf life
Old varnishes thicken heavily, are applied hard and thick in layers, they dry out for a long time. And bubble up, naturally.
Earlier, so that the varnish dried on the nails quickly, after painting, I started waving or shaking hands, blowing on the nails. This deforms the not yet seized lacquer film and forms bubbles. Also, do not dry your nails, directing them to a hairdryer or dropping into the water.
I hope my knowledge will be useful to you.