After the New Year's almost-zero temperature, I had already relaxed and put away super nutrients for the face in the back box. But it was not there! In my city last week was kept around -30, and in the morning and even lower. And here came Avene Cold Cream to help me.
For this winter, I prepared in advance and studied the special means for the skin on cold weather. To my surprise, it turned out that there are so-called cold creams on sale. You can find such products in different brands; I chose Avene pharmacy cosmetics.
Composition and properties
As you know, before going out in cold weather, it is recommended to use nourishing creams, rather than moisturizers, to protect the skin. Such and Avene Cold Cream. It is written that it is suitable for both adults and children. In the composition there is beeswax, which should create a barrier against aggressive environmental influences.
The cream should be applied to cleansed skin twice a day, but not immediately before going outside – you need to wait at least half an hour for the remedy to be absorbed. This applies to any cream that is used in freezing temperatures.
Find Avene Cold Cream can be in pharmacies, available in two versions – 40 and 100 ml. The price without discounts is about 300-400 rubles for a small version and 700-800 rubles for a large one. I took on the stock at a discount version more.
Sensations of use

When I read reviews that the cream is very greasy, I did not even think that it was so thick. Can be compared with Children's cream, even more thickly. Therefore, the owners of oily skin Avene Cold Cream is not suitable, it is only for dry. But even if you have very dry skin, but you do not like dense textures, you can hardly use it, it will be just unpleasant for you.
The most interesting thing is that at first the cream seems light, but if you touch it with the face, the sensations are not the best. The cream is difficult to apply, it is very dense and difficult to distribute over the face. Therefore, I do it like this: I apply it on the palm of my hand, I rub it well and pat it in the face with patting movements. In another way I can not, the skin is very stretched.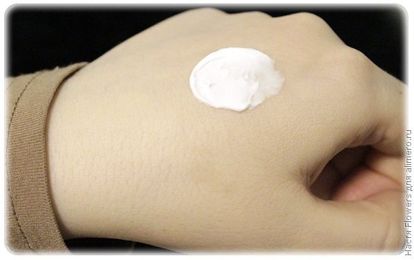 Immediately after applying the face shines like a pancake. After half an hour, the cream is absorbed, but not completely, it remains as if the film, so I promakivayu face with a napkin or towel. After that, I put on make-up (my skin is closer to dry in winter, so nothing floats). Subjectively, the cream works. Of course, in the cold cheeks still redden, however, peeling does not appear.
I think this is the first winter in which my face feels comfortable, the skin is smooth and not rough, as it was before. Despite the unpleasant sensations, for the sake of a smooth face without irritation, I definitely apply the cream immediately after washing in the morning, so that while I have breakfast and going to work, he has managed to absorb himself as much as possible. I rarely use for the night; No need, the skin is very comfortable even after walking in the cold.
Who would suit Avene Cold Cream
Definitely, this cream is an amateur and not suitable for everyone. Very thick, oily, sticky, face after it glitters for a very long time. However, if in the winter you suffer from irritation and very dry skin, then Cold Cream can be your salvation.
Plus, this cream can be used by men as well as children, so all the cheeks of the family will be saved. In addition, the cream will help lips cracked by frost, if applied as a balm.
In general, if you know firsthand what irritated skin is in winter, and even sea buckthorn oil does not help you to soothe, for example, the lips and the skin around them, then try Avene Cold Cream at least in a small version. For me, he became a lifesaver.
What do you use in the cold?