I really adore shower gels. I can have them 5 and 7 simultaneously open. I get a lot of pleasure from the use of various cosmetics. Today we will talk about the shower gel from the company JOHNSON'S. I first used the gel of this brand. And my impressions are not unambiguous.
In general, the tool is pretty good. Perfectly foams, which further manifests itself in efficiency. If you use a sponge for washing, then you need only a drop of money, but at the same time you will have almost a cloud of foam.
The smell is very delicate, remains on the body for about an hour after bathing. But this is only if you do not smell the product directly from the can: the aroma, let's say softly, is not very pleasant coming out of the tube. Manufacturers have not regretted perfume.
The skin after application is soft, but I would not say that it is moisturized. The manufacturer promises moisturizing 24 hours a day, and it is not even immediately after use. Personally, I, the owner of dry skin of the body, tighten the skin on my back, legs, arms.
A separate point I want to stay on the composition of the product. Here, in addition to the world-famous SLS, you will also find a couple of not very useful, or rather, harmful substances. By the way, the children's line is replete with the same suicidal chemical composition. I recommend to think about the next purchase.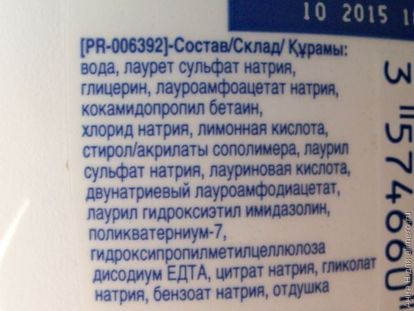 As for the packaging, it is made of plastic, the lid is quite comfortable. It opens with a little effort. During use, no complaints here.
The texture, smell and packaging are very nice. The gel itself is white in color, liquid consistency.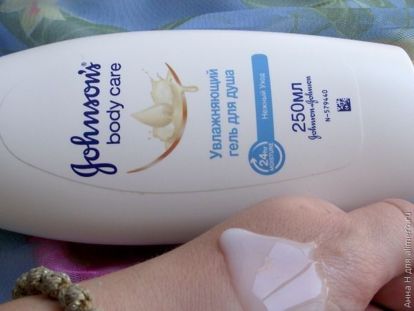 Perfectly foams, has the magnificent washing qualities. But there is one big BUT in this product. Its composition leaves much to be desired. Everyone understands that today the environment is not the best, and there is chemistry in every corner of the house. I personally believe that if you can minimize the risk, then it is worth it.