Today I will show varnish, which creates on the nails a very catchy and beautiful coating a la metal – OPIPushandshove. There are practically no analogs to this varnish; such an effect can be achieved only with a MINX manicure or a special foil that is glued to the sticky layer of the gel coating after drying in the lamp.
The varnish is not thick and not liquid, not flowing, where you put it – there it lies, it does not flow onto the cuticle.
Since the lacquer itself is a holographic, it emphasizes all the irregularities of the nail. They need to be properly polished, polished, to get rid of absolutely all mikrotsarapinok. If this is not done, they will be very noticeable.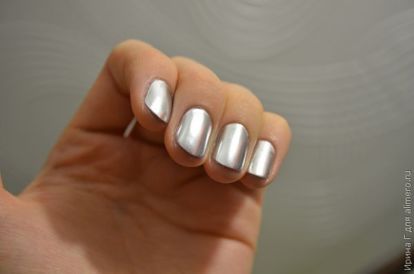 Apply it smoothly and gently the first time is quite difficult. When applied to a bare nail, to the base, to another varnish, he crumples, sticks into pieces. Included with the lacquer is a small bottle of the base with the saying name Base for lacquer. A brush of the same size as in a large bottle, as it dries, either absorbs or becomes matte. The varnish falls well on this base, it is applied evenly and does not make a splash.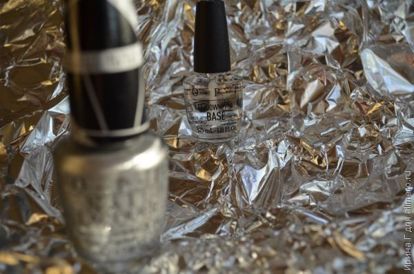 The varnish is applied in one layer, it is not necessary to cover it with top, it is specifically stated in the instructions. But if you still cover it with a top, then the coating ceases to look so metallic, the silvery particles in the lacquer seem to become more visible, becoming larger.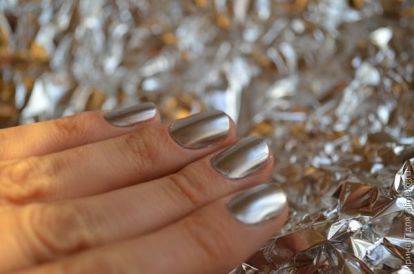 It is necessary to apply varnish quickly, with two or three confident movements, because it strips mercilessly, can go, lie unevenly. In its raw form, it looks non-uniform, but when dried it turns into metal on the nails. From the cuticle lacquer is wiped off quickly, not smeared.
Keeps on the nails for at least two days subject to careful handling (use gloves, do not scrub with nails). But in other reviews on the Internet they write that the varnish quickly peels off – literally you pass the day, and everything has already broken off. I did not have this, the varnish did not even begin to rub over for three days.
This varnish looks great in the stamping. Due to the high pigmentation, it looks very rich and gives clear lines. Using this varnish for stamping, it is possible not to cover the nails with a special base, nothing rolls anywhere, as the minimum amount of varnish is transferred onto the stamp. Such silver is especially well combined with both soft pink lacquer and cold-colored lacquers, for example, blue.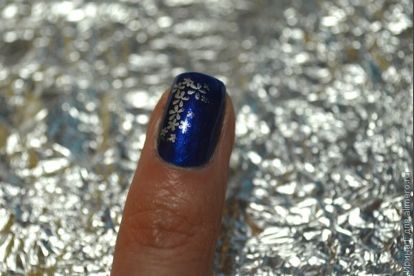 Despite the high cost (500 rubles), I do not regret the purchase. The lacquer looks just gorgeous, attracts the eyes and shines very brightly in the September cold sun. Such a silver treasure makes me very happy!