Girls, hello everyone! Today I want to share with you about my other shadows. They are certainly not new, they are already half a year old, but they still look like nothing.
Only, I will not tell you anything about the price, since I did not buy them myself. Alas! A friend gave me a birthday present.
The packaging design is discreet, but stylish and elegant. It is these products that simply conquer me with their gloss and luxury.
On the center of the lid with glossy gold is the company logo. And not just any, but still YSL. So get out of the bag shadows and look in the mirror is not at all ashamed – quite the contrary.
Inside the package is a great large and comfortable mirror. Its size is quite comfortable.
The palette is divided into three compartments of different shades of shadows.
Shadows when buying were protected by a plastic cap. But I have not survived it.
Sponzhikov in the set of only one and nothing special, he does not stand out. On the one hand, the applicator is pointed, and on the other, more rounded.
The texture of its medium hardness. In principle, quite comfortable.
Texture
The texture of the shadows is soft, velvety and silky.
On the applicator are typed well, while not dusting.
Apply evenly with the included applicator and other brushes.
They lie on the eyelids perfectly and without hints of slipping.
Do not peel off either during application or during the day.
Eyes are not annoying. Allergies do not cause.
I use without the use of the base, while keeping all day.
By the way, durability is excellent.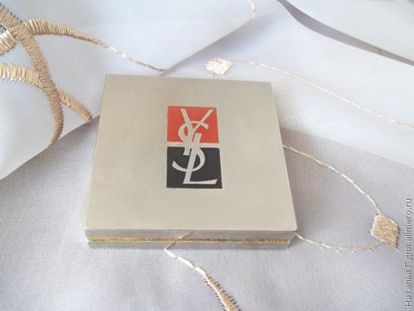 Personal opinion
Although the color palette is modest, the colors are perfectly combined with each other. Makeup is discreet, elegant and not defiant.
The stability of the shadows delights! Hold on all day and do not showered.
I can recommend you to purchase, because I'm quite sure that they will not disappoint you and you will feel chic and stylish.