At thirty, with my tail, I finally began to regularly attend a manicure master. Yeah, it's too late, I realized that my hands need more care than – just washed and smeared with cream.
I chose my ideal master for a long time. Our village is not very large, but girls who have been trained and received the appropriate certificates, already 20 people will be typed. So, the document is a document, but not all of them correspond to the high title of the master. I have already figured it out by experience, so to speak – I checked it on my own skin.
I still remember my first trip to our so-called beauty salon with a shiver. On the eve of the winter holidays, they announced a campaign – a manicure with gel polish for half the price. Exactly the same turned out and manicure. Cuts in the cuticle area healed for a couple of days, then burrs appeared, and after seven days only mournful reminders remained from the gel coating.
Then there were other masters who are better, who are worse … But now I learned for myself a few sure signs of a good master (besides having a certificate). So.
Symptom 1. The tidiness of the workplace and the master himself.
If the master's desk is not cluttered, clean, well lit, and equipped with everything necessary, I will feel more relaxed. And the manicurist herself is more credible if she looks well-groomed.
Symptom 2. Compliance with hygiene standards.
The presence of a dry-heat wardrobe and disinfecting solutions is another important factor in the professionalism of the manicurist. My current master always handles his and my hands before the procedure with a disinfectant. In addition, it always works in disposable rubber gloves. All instruments are carefully disinfected and sterilized.
Sign 3. Proper selection of nail files.
Metal files and abrasive hardness less than 100 grit – are detrimental to the nail plate. Therefore, a true professional uses other types of canvas, selected individually for different purposes.
Symptom 4. The use of drugs from one manufacturer.
This does not mean that all the preparations available to the master must be of the same firm. But mixing them is highly undesirable. The base, lacquer and fixer may differ in composition from different manufacturers and may react when mixed. The consequences are hard to predict.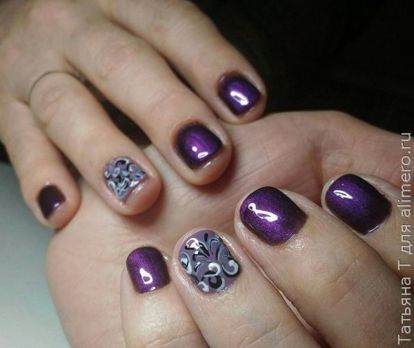 Symptom 5. The absence of flushing fluids with a high content of acetone and the use of moisturizing oils.
My manicurist never uses aggressive nail polish removers, because they terribly overdry skin of hands. But after finishing work with my nails, always applies cuticle oil or moisturizing lotion.
My third trip to Olenka (this is the name of my skilled worker) gives me a lot of positive emotions. I boldly trust her with my hands, I fully rely on her imagination and skill. I hope our cooperation will be long.
And how do you determine the level of professionalism of manicure masters?