Walking around the store, I wanted a very bright lipstick. After a long search and tests, my choice (not without the help of consultants) fell on the beautiful Rouge L`etoile Moisturizing Satin lipstick in a shade of 103 Pink VIP. Lipstick is included in the permanent collection.
From the manufacturer
The manufacturer promises a silk finest coating and rich color in one touch. The unique color transfer system allows you to lay up lipstick without compromising make-up. The effect of moist lips and smoothing of the skin of the lips is created due to the high content of vegetable oils and polymers. Rich color palette.
Packaging
The lipstick case is made of simple black plastic, on top of the lid is an image of a golden star, on the bottom – an indication of the shade and a tonal sticker. A cardboard box was not attached, so finding out the manufacturer, the amount of lipstick, the composition and other information is not possible. This is a minus.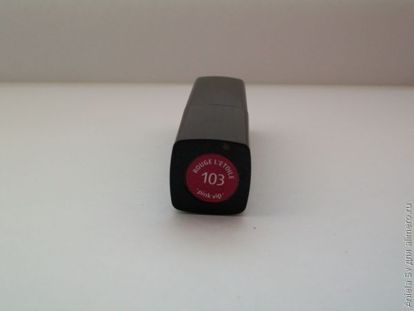 Appearance and fragrance
Lipstick in a case a lot (I would venture to assume about 4 g). A small minus – lipstick rubs against the walls of the case and there are grooves on it, causing not the most pleasant impressions. It smells subtle, candy flavor.


Drawing
Lipstick is not easy to apply, it requires a pencil and a clear lip contour, however, like all bright lipsticks. You can apply directly from the stick. And you can brush for a thinner coating. Peeling does not emphasize, can be applied without balm, does not roll into a white strip, does not clog up in folds.
When coated in 2 layers, it lasts all day. Lips do not tighten. On the teeth with a smile is not imprinted.
Colour
The color is very bright, rich fuchsia. Very beautiful shade, emphasizes the whiteness of the teeth. On the lips it looks wet. The color is self-sufficient, active eye makeup with such lipstick would be inappropriate. During the day socks imprinted a little on the lips and does not leave marks on the glass or cup.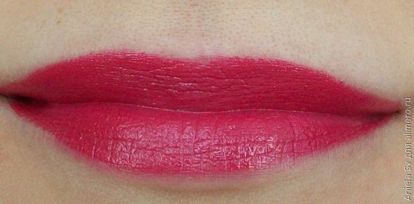 Make up remover
Removed lipstick is not easy, as if it eats into the skin of the lips, therefore, it is better to remove it with oil or makeup remover resistant cosmetics. After removing the lips does not tighten.
Very beautiful color – ideal for winter or late autumn, when you want bright colors. Persistence will delight girls who do not like to correct makeup. Price – 449 rubles without discounts.