A few years ago, I hooked up on video reviews and blogs about cosmetics. For me, all these cosmetic jars, tubes, boxes were an unknown universe. I myself paint pretty modestly and rarely change something in the make-up, but I could not get past these shadows.
Cream shadows by Maybelline under the name Color Tattoo 24 hour deserved a lot of positive feedback, add to this an affordable price of 250-300 rubles – in general, I have no choice 🙂

What the manufacturer promises

Shadows of the Color Tattoo series have a creamy texture, rich color and hold like a tattoo for 24 hours. There is a postscript that the tool is checked by ophthalmologic control and is suitable for people with sensitive eyes and wearing contact lenses.
Volume 4 ml. Shadows are placed in a glass jar with a unscrewing black lid. Expiration date after opening – 24 months.
First, there were several colors in the line, then I bought 40 number Permanent Taupe, and then the palette expanded – and in my purse appeared 15 shade endless purple.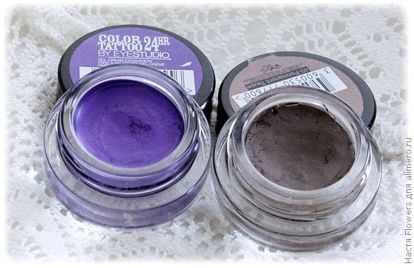 I used to bypass the cream shadows side, because It seemed to me that they are more difficult to apply, roll, capricious and quickly disappear. What turned out to be real?
My impressions

As I said above, I first had brown shadows in 40 shades. It is worth noting that this is the most popular color, which is most often found in reviews. And this is not surprising – an interesting brown-gray tint, without a redhead, it is just perfect for natural makeup, as well as eyebrow drawing!
As for eyebrow shadows, I have no complaints – Color Tattoo is easy to apply, it gives a very natural effect, they last all day. And the color! I am ready to sing his praises, for the first time my eyebrows looked natural, without red or red in the light (my hair color is ashy light brown).
I use Permanent Taupe much less frequently. in the mornings most often only pencil and mascara are used, but when I have time, I always put these shadows in the fold. The working day in the office they stand, do not grow dull, do not slip. The only thing, it is necessary to shade borders immediately, after solidification it is almost impossible to do this.
I want to note that the shadows are not mousse texture, they are quite dense. Give a matte finish.

And let me knock him, and he will turn purple … speckled!

I liked the second shade less. It is no longer matte, shiny, due to this, the texture is a little softer, as it seems to me. However, when applied, the beautiful saturated purple color from the jar becomes almost transparent.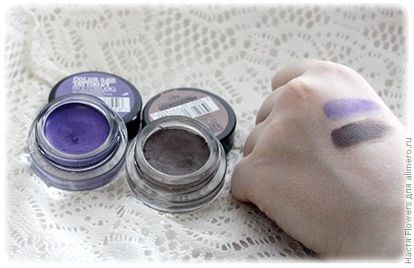 In this case, the shadows are applied unevenly, with bald spots. To get a bright color, you will need several layers. If you still tinker a bit, then the shadows are very beautiful shimmer in the sun and hold on well. But because of the difficulties I use this shade very rarely.
findings
Shadows deserve attention, but not all shades are easy to use. Nevertheless, Color Tattoo has excellent durability, a nice jar, an affordable price. Shadows are waterproof, while easily removed with any makeup remover. I buy 40 shades for the second time and I am sure that I will purchase them for the third one.
I would not recommend the purple color, but judging by the opinions of other girls, such capriciousness of the shadows is rather an exception, and I'm happy to get another one of the bright colors in the summer to try.
Therefore, I am very interested in whether you used Color Tattoo 24 hour and advise other shades?