I always put on make-up with my fingers, maximum, with sponges that came with shadows and powder. However, after seeing the makeup lessons, I realized that I wanted to try applying cosmetics with brushes.
Long chose what brush I need, and stopped at a well-known company Real Techniques by Samantha Chapman. Acquired immediately the whole set plus two more brushes separately. Looking ahead, I'll say that I can't imagine my makeup without them.
All brushes from synthetic pile, on a metal handle. Those that are pink, with a rubberized leg, on which you can put a brush on the table without additional accessories (and this is true). None of the brushes I have ever faded, in what condition they were on receipt, remained in that six months later.
Tone Brush – Stippling Brush (1)
This brush is marked with the number 1 in the photo. It is intended for putting liquid textures, consists of two types of pile. The brush is soft, not prickly, elastic, it is convenient for it to spread the tone across the face. It turns out almost imperceptible layer (it seems to me, more even than when working with hands or sponge).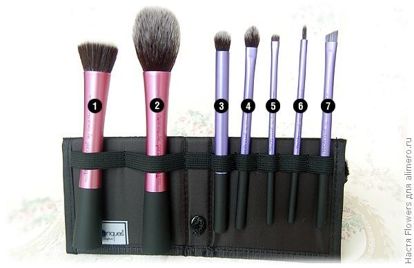 Sometimes I apply cream blush with this brush. The only thing – it would be more convenient for me if the Stippling Brush was a little bit bigger. Otherwise very pleased with the purchase. It is much more pleasant to work with brushes than with a sponge or with hands, you feel closer to the professionals))

Belkin tail for blush – Blush Brush (2)
In the photo under number 2, the softest and most pleasant of all brushes, big-big, fluffy-fluffy! She even just nice to drive in the face. Due to this, blush is applied very delicately (even the most vigorous color).
In addition, this brush is ideal for compact and crumbly powder, various sverkalok, balls, etc. Maybe someone will not like its size, but for me it is perfect. In addition, due to a slightly sticking tip, it is possible to apply the products more precisely.
Set for eye Enhanced Starter Set (3-7)
The set includes five brushes and one case for storage. They can no longer be put on the leg, but this is understandable, because the handle is much thinner. I constantly use three (3.4 and 7 in the photo), sometimes 5 in the photo is used, and the sixth is completely idle.

• Deluxe crease brush (3)
The largest of the set (3 in the photo), soft, round, feather brush. Erase all rough borders and shuffle all colors. The only thing bolshevat, it works exactly like an eraser, if somewhere too far with color and it is necessary to remove the excess.
• Base shadow brush (4)
Brush for applying the main color (in the photo under the 4th number). It looks like a shovel, closer to flat brushes, but due to the sharp tip it is convenient to shade the color in the crease of the eyelid. I like it very much, sometimes I go around in the make-up to her alone, without using a shading brush.
• Accent brush (5)
Small brush for accents (5 in the photo). I use extremely rarely, because My make-up to the ugliness is simple and they do not assume any jewelry work. Sometimes I put a shadow on the lower eyelid with this brush. It copes well with its task, but for my straightforward make-ups it is practically not required.
• Pixel-point eyeliner brush (6)
The most unsuccessful, in my opinion, brush (pictured under number 6). It is intended for liner, however, so thick and unsharpened that the mind is not an application, as it can draw arrows. Lying around.

• Brow brush (7)
Eyebrow brush for eyebrows (7 in the photo), the very best for me. I can not draw the eyes, but without eyebrows from the house – not a foot! Many scold this brush for thickness, but for my eyebrows it is just right. Just a couple of movements – and it's done, I love, just adore this brush. However, not all its thickness is suitable, keep in mind.
Overall impression

To me, as a beginner, the brushes from Real Techniques seemed very good. Elastic pile, with a soft, pretty appearance and a decent result.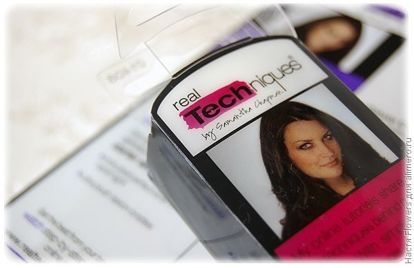 Unfortunately, I have nothing to compare with, but after applying makeup with hands, sponges, applicators – the brushes seem like magic wands that make life much easier.
In addition, the creator of Real Techniques is a well-known blogger and makeup artist Samantha Chapman, and positive reviews lead us to believe that they are really worthy of a brush for their price category (approximately 200-300 rubles for one brush and 600 rubles for a set).
Do you use brushes? What firms can you recommend?