Fingering my makeup stocks, I came to the conclusion that I urgently need matte lipstick. Numerous brilliance have already become boring. In addition, the glossy shine is no longer fashionable. Not long thinking, I went shopping.
Matte lipstick, as it turned out, is really popular. In the store, their choice is huge! Among all the variety I was attracted by the price tag with the action on Etual Mon plaisir lipstick. Its discounted price was about 100 rubles (30 UAH).
Packaging and shade
At first glance, I was attracted by the stylish packaging of matte black plastic lipstick with a brilliant crimson rim and lettering. There were very few shades in the window. From this I concluded that the lipstick is sold out well. I go pink shades. Only not screaming, but calm, closer to the natural color of the lips. I usually pick up the right shade for a long time, but this time I paid attention to it right away. This is shade number 11.
I bought Etual cosmetics more than once. Despite the low cost, its quality always suited me. Having tried several testers, I was finally convinced of the correctness of the choice of hue and went to the checkout.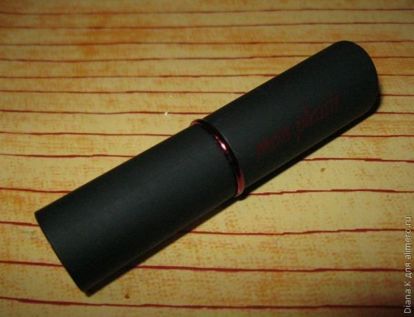 Advantages and disadvantages
I could not wait to try the novelty. Returning home, the first thing I put on my lips. The aroma of lipstick is light, subtle. Color dense, saturated. Hue suited me perfectly. I can compare it with a smoky rose. Gentle and deep color.
The consistency of lipstick slightly disappointed me. Still, it's summer now and you want something light, weightless. This also applies to clothing and cosmetics. And this lipstick, it seems to me, is too dry and dense. In my experience, all persistent lipsticks have such a consistency, but with the purchase, unfortunately, I did not pay attention to it.
I cannot call lipstick very persistent. But she keeps herself pretty well on her lips. Hour 1,5-2 stand. It seems to me that for a lipstick with such a democratic cost it is very good. I like the fact that over time it does not slip from the lips, but is erased evenly, without drawing attention to the lips.


It is impossible to say that this lipstick is not felt on the lips. Because of its dense consistency, it seems, if I may say so, heavy. I always want to make up my lips with a moisturizing balm on top of this lipstick. Perhaps this is not a flaw, but my individual feature.
The rest of the lipstick I liked. Having tried a lot of cosmetics in different price categories, I can say that it is not inferior in quality to some expensive items. If you do not suffer from dry lips, I recommend that you try Etual Mon plaisir lipstick.