Every year in September-October, I go through a course of acid face creams to get rid of uneven complexion, clogged pores and to improve the overall appearance. Today I will talk about one of my creams – Avene Triacneal.
The manufacturer (France) promises antibacterial action of the cream, reduction of black spots, leveling of the skin relief, removal of irritation and reduction of redness. Zapantenanny complex has anti-inflammatory effects.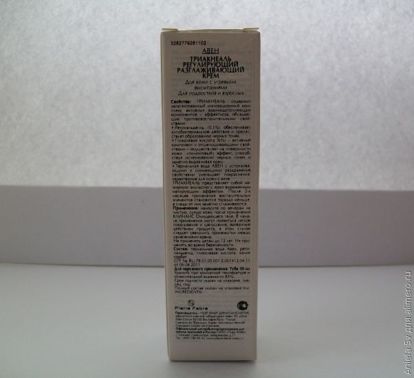 The manufacturer pays attention to the method and time of application of the cream, as well as contraindications. The cream can not be used during pregnancy and children under 12 years. The cream is hypoallergenic and non-comedogenic.
Packaging and appearance
The cream belongs to the pharmaceutical cosmetics, so the design is modest. The cream is in a cardboard box, completely covered with the promises of the manufacturer. The cream itself is enclosed in a white plastic tube with a very narrow neck. Volume – 30 ml.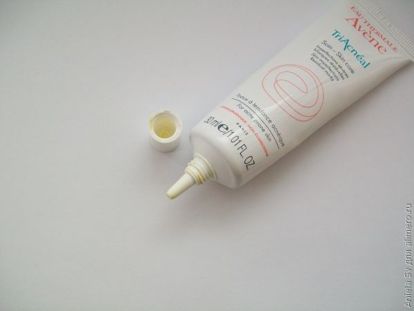 At the first extrusion it is clear that the cream is yellow-orange with a pronounced smell of acids. When used over time, the lid of the tube also turns yellow. The cream is applied easily, but uneconomically, on the whole face (except for the eye area, of course) I have to squeeze out 3-4 times.
Action and composition
I consider the composition to be excellent: thermal water, glycolic acid (6%), retinaldehyde (0.1%). With this combination of ingredients cream perfectly copes with its task. I use it every night before applying the night cream. Apply, give some time to absorb and apply night cream.

If you use Triacnel without further moisturizing, my skin dries terribly and begins to peel off, after all, the percentage of glycolic acid in the composition is rather big. If you use Triacnel under the day cream, protection in the form of SPF is necessary, since acids increase the skin's sensitivity to the sun and pigment spots may appear.
The action is expressed immediately, it is necessary to give the skin to get used to the action of acids. 3 weeks after use, the relief of my skin smoothed out, the closed comedones dissolved, the complexion evened out in general, the black dots disappeared completely. During the use of acne cream almost does not appear.
Of course, I liked the cream, but I would recommend recommending it with caution, after all, a specialist should appoint pharmacy cosmetics. If you have skin problems, talk with your doctor before you go and buy something.
But if you are like me, do not suffer from acne, but just want to smooth out the relief of the skin, I advise you to try this cream. Cost – 818 rubles.