In winter, I was so tired of the cold and the dark color in clothes that I didn't notice how I once bought a fuchsia-colored lipstick. This lip gloss from Rimmel turned my ideas about liquid lipstick.
I had heard of liquid lipsticks and lipsticks before, but I never liked them. I tried the tester on the hand in the store, but did not buy anything. All of them seemed to me to be something incomprehensible between glitter and lipstick, or even more correctly, under-glitter and underdrinks.
Lip Lacquer Apocalips Lacquer
This tool interested me, first of all, with a funny name – Apocalips. I began to look for information on the Internet and found a lot of good reviews. And the not-so-high price of 130 rubles (with a discount) made me try this fudge. In addition, the weather was nasty, and I wanted bright colors!
In the line there are different shades, from light beige to scarlet, but I decided to take the brightest of all under the number 303 Apocaliptic.
This is not just a lipstick, but a lacquer, i.e. Lip Lacquer Apocalips should give a rich color and brilliant finish. The manufacturer also promises long lasting durability.
I really liked the packaging design. Beautiful faceted black cap, which turns into transparent plastic, behind which you can see the color of lipstick, or rather even lipstick itself (this is not a drawing).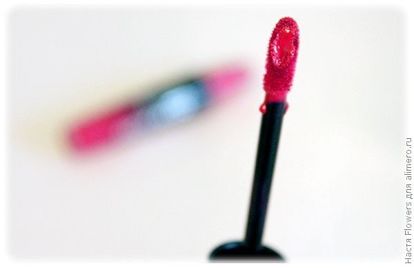 I was surprised by the applicator: on the one hand, it is from the usual material, and on the other, in the middle, it has a small notch, a recess. It turns out a kind of spoon, which hides a sufficient amount of money, just for one use.
Plus, the sponge is elastic and it is easy for them to draw the contour of the lips without using additional tools or pencils.

Bright and bold!
It is very difficult for me to convey the color of this lipstick with words and photos, since with different lighting comes out differently. The color of fuchsia, which with different makeup and clothes, will play differently.

For my birthday, I wore this lip gloss with a black dress and the image turned out to be evening, and the lipstick seemed more red. On March 8, I had a playful mood, and with a light dress and bright details, Apocaliptic looked closer to pink, I would even say disco.
The texture of the lipstick is very pleasant, creamy, soft, while dense. It does not numb in the folds, it keeps on lips very well, if it is carefully eaten, it will survive the dinner 🙂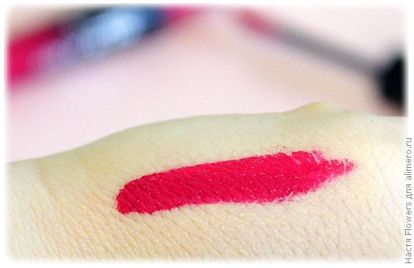 When applying a color with a lacquer effect, over time the gloss disappears and the lipstick becomes more matte. My lips do not dry and generally do not feel on my lips, I feel very comfortable with it.
Very pleased with this spontaneous bright purchase. I would love to get other colors, but they, unfortunately, did not catch me. Therefore, I will enjoy my fuchsia and wait for a hot summer. I think with tanned skin, this color will play a new way.
Do you like bright lipstick? How often do you wear them?