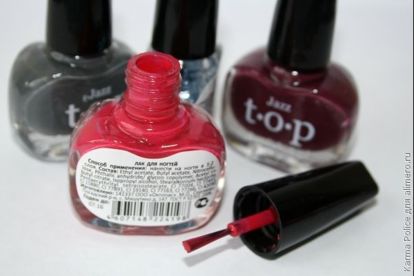 Cheap and angry
I'll start with a little story. I always avoided manicure varnishes in transitions, in the markets and in supermarkets. Incomprehensible firms, a cheap price – can they really be of high quality? I think because of cheap solvents, they can even be dangerous. So I never looked at them.
My distrust broke the post of one beauty bloggers. The girl bought a bunch of penny bubbles of varnish in the supermarket and under the slogan cheaply and angrily in all of them praised. They say, and the colors are super, and they lie down perfectly, and they dry instantly.
I was impressed and could not indifferently pass by the rack with nail polishes in Auchan. Moreover, the price of 12 rubles seemed ridiculous to me, because I buy varnishes at 10, and sometimes 30 times more expensive! From hundreds of mother-of-pearl bottles I managed to get some interesting flowers for my taste.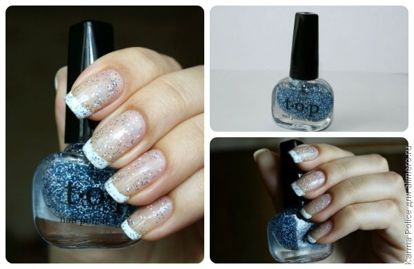 One is better for 120 rubles
So, I bought four bottles of lacquer Jazz top. I tried everything. And the budget find them really can not be called! Yes, the quality justifies the price. But, my dear, one varnish is better for 120 rubles than 10 varnishes for 12 rubles each!
Bottle tiny, 6 ml. The brush is very short, round and tough. Small and uncomfortable. Gaining a little varnish: nails on the little fingers can normally make up, but to make up the nails on the thumbs up, the brush will have to be dipped into the bottle several times.
Lucky poorly pigmented. They are bald and the second and the third layer. Lie down bumps. Dry for a long time, even the next day the coating can be dented. An hour after painting, bubbles appear on the surface, as ugly!
Dark varnish turns yellow nail, they all stain the cuticle when removed.
The label as part of harmful components like camphor and toluene is not stated. But the question arises whether high-quality raw materials cost a penny?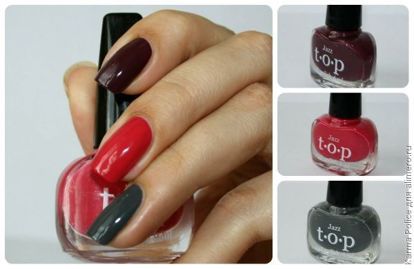 You can if you are careful enough
Well, if you find an inexpensive lacquer, to which there are no complaints, then you can use it without fear of your nails?
I buy nail polishes in different price categories, and I can say that substandard specimens are found among both expensive and cheap ones!
Therefore, under all varnishes I try to apply a protective coating – the base. It protects my nails from the corrosive pigments of nail polish and the harmful effects of its components.
All coming up, where would I attach these bubbles? Maybe they have something to color?