For some, piercing is a way to assert themselves. For the second – just beautiful, but for the third – just a fad. The most common and prominent piercings are a puncture above the navel, in the nose and ears. Having a beautiful body, in a bathing suit, on the beach, the girl looks, in my opinion, interesting, having a piercing in the navel. But only under the condition that she has a rather pretty, well-groomed tummy. Piercing in the nose, with a small earring looks intriguing. Punctures in the ears, even with multiple ones, no longer surprise anyone.
I have piercings in the navel and in the ears. In my ears, in addition to ordinary punctures for earrings made back in my 2 years old, I have a third one. During my teen days, my girlfriend, at home, pierced a third hole with a huge needle.
It is now, I understand what could result in such a home beauty salon. Then I thought only about how I would become more beautiful, more interesting, how much more guys would pay attention to me. My mother, I remember, was shocked, she noticed only on the third day: I strongly hid a puncture in my ear with hair. But then I got used to this thought, resigned myself, and I have been wearing the third earring for many years. I like her so far.
6 years ago I made a puncture on the navel. My husband was on the voyage at the time, and during a regular phone call, he told me that he intended to get a tattoo. I was a little shocked and decided to give a nice surprise to me in the form of a puncture over the navel.
I was going with the spirit of the month. Finally, waiting for good weather (it seemed to me that a puncture should be done only in good weather), armed with a friend, for moral support, I went and did it. It was painful, a couple of times during healing, even regretted what they had done. But what has been done is done, and then, I really liked that I have such a highlight. Yes, and still like it. I'm not going to shoot yet. In pregnancy, I took off my earring for 9 months, then I put on my earring without any problems at all, to which I was incredibly pleased.
My old friend, Vika, also has a piercing in her ears. In addition to the classic punctures, there are two more on the right ear and three on the left. Just five.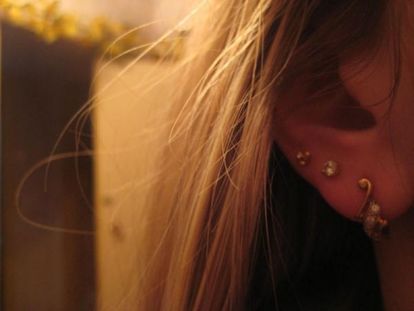 She pierced her ears to herself. As a result, it hit the points that now no metal except one perceives. She can not wear anything except earrings, which pierced the holes in the ears. Since then, her body takes only a wedding ring and some earrings. The conclusions, I think, are clear to everyone. You should not deal with such serious things on your own, but rather trust professionals.
Piercing is beautiful, if done with the mind and consciously. This requires a special attitude and determination. If you doubt whether or not to do it, the answer is better not to do it.