To attract the attention of the opposite sex, we, women, often use our main weapon – a glance. To a greater extent, the effect of an alluring look, which attracts attention and expresses our feelings and desires, is achieved thanks to long thick eyelashes.
Recently, I have experienced serious changes in my eyelashes. They have become much thinner, rarer and shorter, the tips break off, and the cilia fall out when the carcass is removed.
To begin with, I tried to figure out what could be the reason for such changes, finding out the following factors that have an effect on the appearance of cilia:
– the use of low-quality cosmetics;
– allergic to mascara or other cosmetic products;
– lack of vitamins or unhealthy diet, exhausting diets;
– bad habits – alcohol, smoking;
– stress and constant experiences;
– reaction to certain diseases in the body, etc.
Deciding to start acting as soon as possible, I actively took up a set of restorative procedures for the care of eyelashes.
Methods that helped me in dealing with the problem
1) Nutrient complex


One of the most effective, well-known means is castor oil (ricin oil). After applying it, eyelashes grow healthy and shiny, become thicker and stronger.
In order to get the desired result, you need to regularly carry out the necessary procedures (preferably at night): we moisten a clean eyelash brush in oil (you can use it from old used mascara, washing it thoroughly) and gently apply a little oil without washing it off until morning. If there are signs of allergic reactions or reddening, apply only for 30 minutes, let it soak, then wash off with a cotton pad.
In the same order, you can use burdock oil, it nourishes the eyelashes well, strengthens and gives a healthy well-groomed appearance.
To enhance the result, I also use complex 2 in 1: I mix burdock and castor oil in half, add a few drops of vitamin A, E (I usually buy AEvit liquid capsules at the pharmacy) and apply it overnight. After that, the eyelashes become gorgeous, but for this effect, you need to apply daily for at least two weeks.
2) Compresses on the decoction of herbs


A cheap, easy way, which I am very impressed with: chop fresh parsley in mush, put on cotton pads and cover your eyes. Hold for 20 minutes. The result begins to appear after 2-3 weeks of use.
In addition, once a week I make compresses of decoction of burdock root and nettle: 1 tsp. nettle leaves and burdock root pour 1 tbsp. boiling water, leave for at least 30 minutes, drain. Attach to the eyes moistened cotton pads for 15-20 minutes.
3) Professional tools


Procedures based on natural recipes of their own preparation can be alternated with the use of purchased products. For example, under the mascara I apply a gel to accelerate the growth of eyelashes Long Eyelashes of the company Relui (Belarus), it contains water kiwi, panthenol and ceramides, which prevent moisture loss, eyelashes become moist and reliably protected from adverse environmental influences.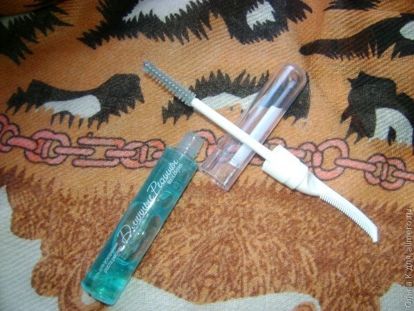 4) It is also important to follow these rules:


– start eating right. Include in the diet products containing vitamins A, E, B, P, B (fish, herbs, beef, fresh fruits and vegetables, sour cream and cottage cheese);
– constantly comb your eyelashes with a brush;
– choose only high-quality mascara, replaceable every 3 months;
– at night we do not go to bed, without first washing off the makeup and not clearing the skin.
In order to preserve beautiful eyelashes, it is imperative to start the right care well in advance, until more serious problems appear. This set of procedures helped me not only to resume the former effect, but exceeded all my expectations.
And what other ways and secrets do you know about strengthening eyelashes?