Hello, dear Alimerovtsy! I want to tell you about two products from the SeaPearl Spa collection, which I have been using for more than a month now.
I'll start with the background
An interesting store has opened in our city, where all goods are sold at the same price – 39 rubles. At first I avoided this store side. But seeing how they rushed to buy, decided to still go.
The goods on the shelves were different: from all sorts of stationery to food. Were on the shelves and cosmetics.
I was afraid to take products and cosmetics for the first time. I bought only socks (2 pairs for 39 rubles!), A baby cap and pencils. When I was standing in line at the cashier office, in front of me were 2 female customers, in baskets with 2 bottles of washing facilities from Spa SeaPearl (Pearl of the Sea). The girls turned out to be girlfriends and while they stood, they discussed this product. Judging by what they said, they like this washbasin.
Arriving home, I decided to search the Internet at least some information about this tool. The reviews were quite good.
The next day I went to this store to buy this cosmetic for my sample. Next to the means for washing there was also a rejuvenating, cleansing face and neck mask of the same series. I decided to try it to the heap. It is not expensive, and if something is thrown will not be a pity, I thought.
Cleanser

My skin is combined. It happens often greasy on problem areas. Therefore, for myself, I always take a washbasin with a matting effect, which remove the greasy shine. Spa Washer Pearl of the Sea just has this effect, so it suits me.
Before him, I used a cleanser with a mattifying effect from the L'Oreal Paris Pur zone. This tool is not bad, but you can not use it every day. It was not suitable for me for everyday care, because after a couple of days there was a very strong dryness and tightness of the skin. What more provoked greasiness. Therefore, I did not use it often, but only in extreme cases.
And after going after Loreal to the SeaPearl Spa cleanser, I just jumped with happiness.
After washing the skin looked fresh. No special discomfort was not. The face did not shine. There was comfort on the skin.
The smell of the product is light, slightly marine, quite pleasant. The consistency of a liquid-gel.
Foundation and simple (not waterproof) mascara washes well.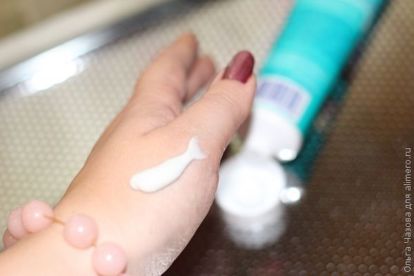 Mask

Now I want to tell a little about the mask for the face and neck. On the tube it is written that this mask cleanses the pores, makes the skin elastic, has a beneficial effect on the sebaceous glands, normalizing their work.
After applying the mask, the skin really takes on a freshened look, the pores are narrowed. But I did not notice a deep cleansing of the pores from this mask.
Before that, I used many masks, especially I loved spa series masks from iwon with sea minerals and clay. I want to say that this mask is inferior to them only by its consistency – it is more liquid. The rest of the action is similar.
And if the action is the same, why pay more. Therefore, I have already bought the second tube of such a mask and the second bottle of cleanser.