I went to a permanent lip makeup for a very long time. Could not decide on him.
Why I did permanent makeup

In order to make permanent lip makeup, I had several reasons:
1) My main reason is the scar on the upper lip. When I was 5 years old, as a child, I had a fight with a boy, and he cut my upper lip with a piece of glass. Because of the scar that had formed, my upper lip remained slightly uneven for the rest of my life, it was not very noticeable, but I still didn't like it.
2) I wanted to make the upper lip a little bigger and more expressive. My lower lip is bigger and plumper, and my upper lip is thin. I wanted harmony.
Choosing a specialist

The most important thing in permanent make-up is the choice of a cosmetologist. For me it was insanely important, because it depended on how my face would look like on his skill and ability.
And yet I decided

After weighing all the pros and cons, I decided that I still need to make myself a sponge and signed up for a proven beautician.
When I came to her appointment, we chose a color for me, drew a shape with a pen (we decided to make the upper contour three millimeters above my native lip contour). She gave me a few painkiller shots and, when it worked, she set to work.
It doesn't hurt at all

The procedure took only 15 minutes. It was practically not painful, only on one small part of the lips anesthesia did not work, but, as they say, beauty requires sacrifice. I made the contour of the lips with shading. I chose a cool pinkish color.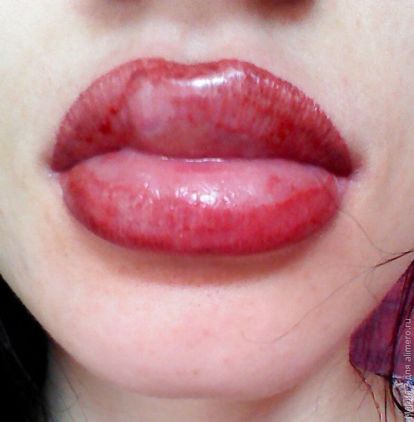 Going to the mirror, to put it mildly, I was shocked. My lips swelled to gigantic proportions, and they became bright red-brown in color. However, the cosmetologist reassured me, said that after two days the swelling will come down and the color will become twice as lighter. I called a taxi and drove home.
When my husband saw me, he laughed for a very long time and slept me with vulgar and caustic jokes.
After 2 days

Two days later, the edema was almost gone, and the lips were crusted. I honestly tried not to wet them and often smeared with healing ointment.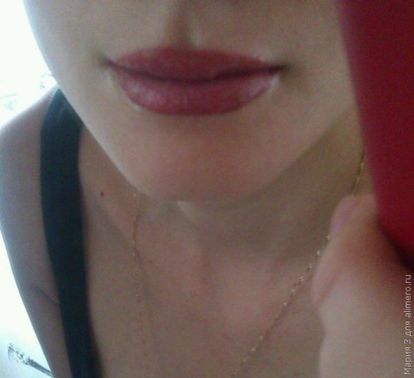 Result

Crusts I moved quickly, on day 5. By the end of the week the color became much brighter. True, I had to go for a correction in a month, a little bit to finish my upper lip, but the beautician warned that this was possible.
I am extremely pleased with the result! The lips are brighter and appear larger. I did not regret at all that I decided! It's worth it.