It is difficult to surprise someone with a tattoo right now, especially since you can bring it closer to the natural and make it almost imperceptible. My girlfriend works as a master of tattoo and I have repeatedly heard from her that permanent eyebrow makeup is most popular with clients.
Why precisely brows? It seems to me that the reasons are as follows:
– this kind of makeup is the least painful of all
– it is somehow easier to tear the master's eyebrows apart than tender lips or eyelids
As they say, the decision to make a decision is already a decision. Personally, I went to my decision more than one year. And all this time I was constantly spent on eyebrow pencils and spent several mandatory minutes in front of the mirror.
It seems to me that you should slightly emphasize the eyebrows, and immediately there are changes – the face becomes brighter, the eyes do not seem to make up, but they attract attention. Of course, we are talking about competent eyebrow makeup.
An alternative to tattoo can be eyebrow tinting. Here, as in the case of hair coloring, you can change the color of the eyebrows for at least a few weeks. But again, the procedure requires regularity, and it is not always possible to achieve the desired shade.
It is important to competently approach the choice of the master and the salon. Ideally – to see live results on satisfied customers. After all, it often happens that because of the savings on paints, they tend to change color – from black to greenish, and from brown to red.
So, in my free time, namely, being on maternity leave, I finally decided – I just got tired of doing the same movements every day.
The procedure usually begins with shape and color. Here you should be as attentive as possible, because correcting an error is often problematic. Many believe that the minimum color options are brown and black. This is not at all the case, because the paints can be mixed in various proportions in order to achieve the desired effect.
It is also better not to rush with the form, it is advisable to stay on the classic low-key version, which, if necessary (for example, for evening makeup) is amenable to self-correction.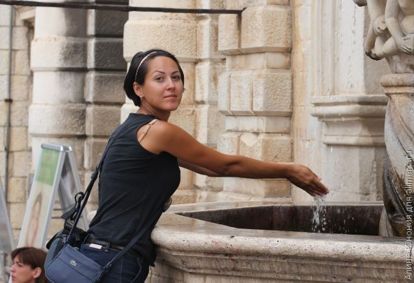 The process of tattoo does not include anything interesting. If the master has sufficient experience, then the procedure usually occurs quickly and not very painfully. It is important to pay attention to sterility: The needle should be disposable, and the hands of the master should be gloves.
Here you can select two points:
1. Do not be scared too bright color, over time (in a week or two) it will become paler by several tones.
2. Carefully check the new eyebrows for symmetry. It is for this that a correction is needed, which is done 2 weeks after the first procedure in order to smooth out possible defects. The reason for them may not be the carelessness of the master at all, but the fact that by the end of the procedure swelling and swelling appear, which may in some way affect the clarity of the lines.
After the procedure, it is important not to allow the skin to dry out, especially since there is a feeling of tightness and dryness. Any fat antiseptic will help in this. ointment – etony, calendula ointment, etc.
There are a lot of opinions regarding the permanent makeup of eyebrows. For example, my friend, a make-up artist, is categorically against such interference in natural beauty, because the tattoo prevents her from creating and restricts the creation of new images.
I think that the measure is good here. After all, it is not necessary to make eyebrows of resin color, which can be seen from afar, you can choose a beautiful natural shade that will look as natural as possible.
Moreover, the cases are different. For example, my mom has a scar in the eyebrow area, and as I remember her, she sketched it with a pencil. And with age, her vision dropped and painted, even with glasses, my mother became uncomfortable. Therefore, tattooing for her was a great alternative.
And how do you feel about permanent tattoo eyebrows?