Many women pay a lot of attention to the care of their hands, spending on all sorts of manicure procedures for several hours a day. However, not every one of them treats their feet with the same trepidation, believing that in winter they are not visible in shoes.
Nevertheless, a pedicure can tell about its owner no less than well-groomed fingers. Therefore, it is important to regularly carry out this procedure for your feet.
It is a mistake to believe that in order to make a good pedicure, you should definitely go to a beauty salon. Everything can be done easily and independently at home. The main thing is to know how. Today I will tell you how to make a pedicure at home.

When carrying out this cosmetic procedure, I usually follow the following scheme.
Step 1. Remove the old varnish


There is nothing difficult in this: a cotton swab, nail polish remover – and more. It is important to remember that it is better to buy nail polish remover that does not contain acetone. After all, from her exfoliate and dull nails, not only on the fingers, but also on the legs.
Step 2. Make a foot bath


Next, I prepare a special foot bath. I pour hot water into a basin, add 1 tbsp there. a spoonful of sea salt, 1 cup of chamomile decoction (you can just brew a bag of chamomile tea in a cup, and then add) and 1 drop of some essential oil (I especially like lavender).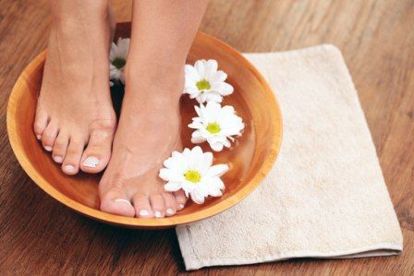 I keep my feet in the bath for 10-15 minutes so that the skin is well steamed. If the water in the bath becomes warm, then gradually pour hot. When the skin on the legs becomes pale pink – it means that it is time to proceed to the next stage.
Step 3. Treat the skin of the legs


With the help of fine-grained pumice, a non-rigid brush and tweezers, I carefully treat the horny skin areas, in particular, the heels and the places on which corns or calluses have formed. It is necessary to remove all obsolete skin, then the legs will be as gentle as that of a baby 🙂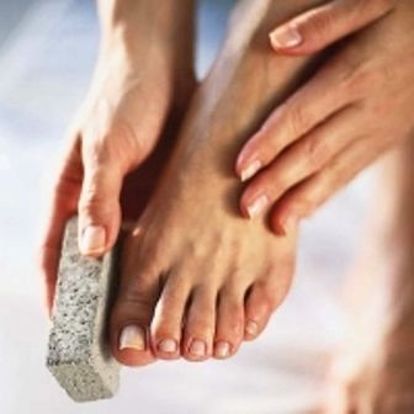 Then I apply a foot scrub on the feet, as well as between the toes, gently massaging my feet and washing them off.
Step 4. Treat the cuticle


My next step is the treatment of the cuticle. Contrary to common practice, in no case can the cuticle be cut off. This can lead to infection of the nail plate and skin inflammation.
I put special oil on the cuticle and gently move it to the base of the nail with a special spatula.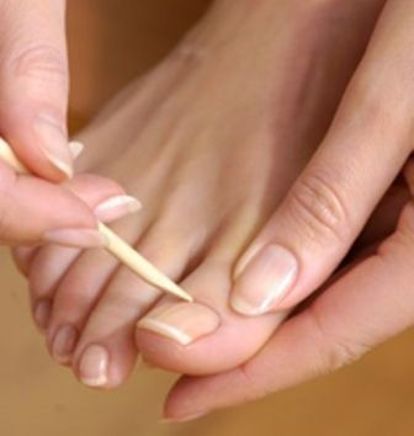 Then I wipe my feet with a towel and apply foot cream. And I walk around the apartment, read or watch TV for 20-30 minutes, since immediately cutting off wet nails is harmful – after that they will be stratified and broken.
Step 5. Treat the nails



Using nail scissors, tweezers and a nail file, I carefully trim my nails, giving them shape. An important rule: nails should be cut in a straight line, not rounding their corners. Otherwise, the nail can grow into the skin, and this is very painful.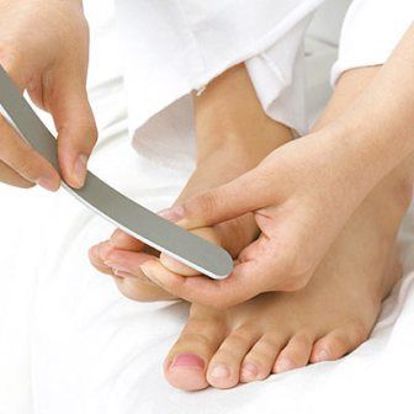 Nails can not be cut too short, you need to leave 3-5 millimeters, otherwise when walking the shoes will rub your fingers. Then nail the polished sharp corners of the nails, giving them the desired shape.
Step 6. Apply varnish


And finally, my most favorite stage is the application of varnish. In order to get a pedicure resistant and most harmless to the nails, it is not enough to apply only one color varnish.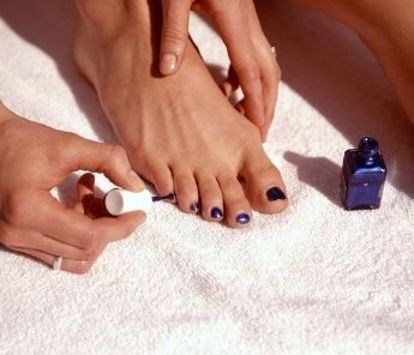 I first apply the lacquer base, which protects the nails from the harmful chemical components of ordinary lacquer, then I paint the nails with 1-2 layers and then apply the lacquer fixer so that the pedicure lasts longer.
So in just six simple steps you can make a beautiful pedicure without leaving home.